International Fastener Expo is thrilled to welcome our attendees, exhibitors and partners back to Mandalay Bay to forge new relationships and strengthen old ones. This year at IFE, you can expect unmatched networking opportunities on the show floor and at special events, strengthened conference content in partnership with FTI and new product access. There's a lot to look forward to as we embrace 40 years of IFE!
The IFE team is committed to creating an event experience where everyone can safely and effectively conduct business. Take a moment to review the Health & Safety Plan outlining what you can expect at the event and how IFE is committed to keeping you safe this year.
It was absolutely wonderful news to hear the words "Registration is Open". We spoke with Morgan Wilson,  about what's in store for the 2021 International Fastener Expo! This years marks the 40th year of the industry's most popular trade show. 
Can you tell us about the show format? Will there be an opening party and golf tournament?
Morgan Wilson: We are following our typical 3 day format, one day for conference and two expo days. We are also excited to kickoff IFE 2021 with our second-annual golf tournament at Bali Hai Golf Club.  Planning is in progress for our welcome reception party, stay tuned for details!
Should attendees expect the educational programs and speaker sessions? Will there be virtual components to the show?
Morgan Wilson: Over the years we have made a commitment to enhance the conference portion of the event and this year will be no different. This includes new topics and technology, engaging panel discussions and overall valuable education. Following the success with our virtual event Match & Meet, we are considering virtual initiatives that will complement our live event. However, we cannot confirm any details at this time.
What safety protocols will Emerald Expositions have in place for the 2021 International Fastener Expo in Vegas?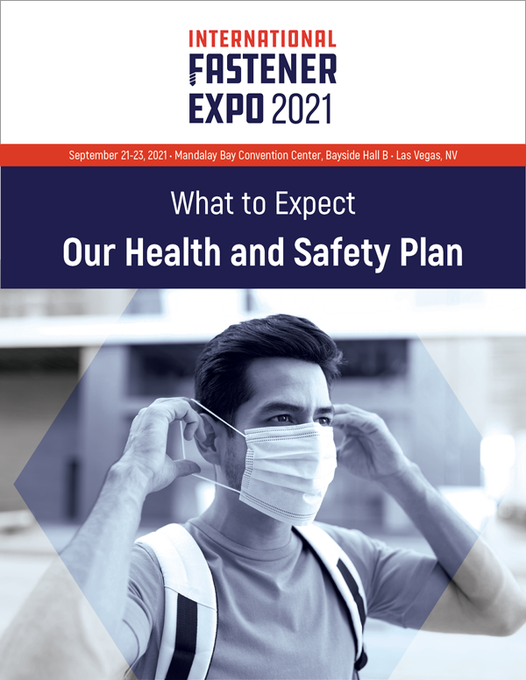 Morgan Wilson: Emerald and the IFE team have established health and safety protocols. Keep in mind, this is a fluid situation and it's likely we will continue to update these throughout the year as we continue to stage events. Our team is committed to creating an event experience where everyone can safely and effectively conduct business. Download the IFE 2021 Health and Safety Plan to learn what health measures we have in place for the 2021 show.
Will aisle space be widened to accommodate traffic flow in and out of booths?
Morgan Wilson: We are currently utilizing the maximum aisle width offered at Mandalay Bay which is wider than what is most commonly used at tradeshows.
Is there a limit to how many people are in the booth at one time?
Morgan Wilson: We have not set a limit on booth occupancy. We simply ask our audience to follow the 6' distancing recommendations.
Will Mandalay Bay have protocols that visitors, attendees and exhibitors would need to understand?
Morgan Wilson: MGM Resorts and Mandalay Bay have developed a seven-point safety plan. We are in constant contact with the venue to make sure that our event is compliant with all safety guidelines. (Below you can view the full view the full Seven-Point Safety Plan)
Are there guidelines for international travelers attending or exhibiting at IFE?
Morgan Wilson: We will follow all local and federal travel guidelines. Otherwise our health and safety protocols will pertain to all attendees and exhibitors.
REGISTER TODAY!
Related Content:
MGM Seven-Point Safety Plan
MGM seven-point-safety-plan

Fastener Expo
,
International Fastener Expo