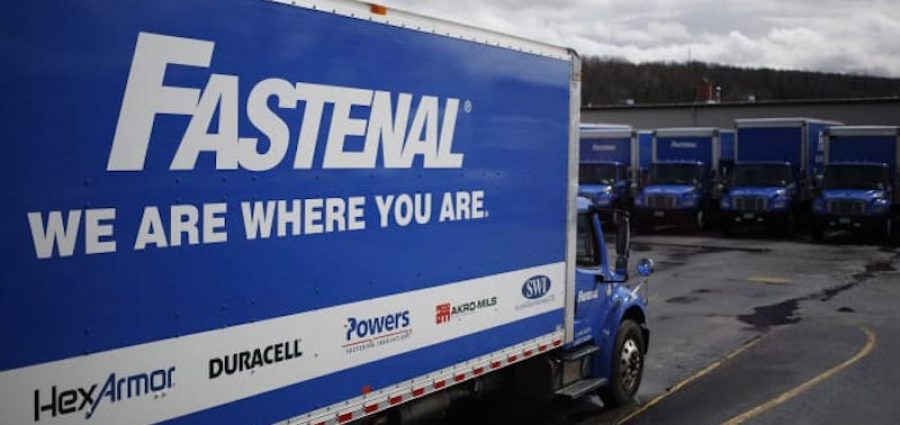 Distributor focused on e-commerce growth, new bin technology and converting pandemic-purchasers into long-term customers. 
• The company relies on its strong global supply chain as well as local relationships to keep product supply moving. 
• Its blue bin tech investments allow for better inventory management.
• The conversion of its physical locations from customer service branches to customer fulfillment centers is part of a larger effort to become a selling and service hub for key accounts.
Thanks to its large global supply chains, Fastenal was able to quickly pivot to finding and selling personal protection equipment (PPE) last year, which gave its bottom line a boost as its Jan-San and fastener segments sagged a bit in the early going of the pandemic. In May, Fastenal (No. 6 on MDM's 2021 Top Distributors Top 40 overall list), saw its safety sales drop by 44% while fastener sales increased by 22.2% and "other" improved 12.5%.
The Winona, Minnesota-headquartered company reported first-quarter sales of $1.4 billion, a 3.7% increase compared with same period a year ago. "Demand is good," says Fastenal CFO Holden Lewis. "It's been improving since the second quarter of last year, but that rate of improvement has really accelerated through this year." 
Lewis says the way Fastenal's organization is built, along with its culture, allows its general managers and salespeople to go into local markets to find products when they can't get them from Fastenal's hubs. Having a decentralized model enables Fastenal to keep pace with serving its customers despite global supply chain constraints in 2021. "A lot of other folks are having the same challenges in the supply chain, but we have the flexibility for every employee in the field who knows their marketplace intimately to go out and source products themselves," he says. "What you essentially have is in the over 3,000 locations with Fastenal employees, they understand where they can get product in and around their local marketplace. That's what's really allowed us to be nimble and flexible, and more importantly, to have the product that the customers need when they need it."
Blue bins go digital
Fastenal's decision to roll out digital bins last year is also paying dividends in 2021. Fastenal equipped its industry-standard blue bins with infrared technology, scales and RFID, creating the capability to measure how much product is left in each bin for customers. Fastenal also created a new tool in Fastenal Managed Inventory that was based on digital capabilities. Those digital capabilities turn the bins into devices that provide information and data to Fastenal's customers. 
"So now, instead of having to go physically to a bin and identify visually whether it's filled up, half empty, fully empty, or what have you, these bins — because of the technology around them — communicate with Fastenal as well as our customers so that they always know how much product they have or don't have," says Lewis. 
Shifting branch strategy
Like other distributors, Fastenal was forced to close many of its branch locations due to the pandemic, but the company already had a plan in place to replace its traditional branches, known as "customer service branches" (CSB), with customer fulfillment centers (CFC). The CFC model frees up sales staff from filling branch bins and vending machines. 
"When an order is placed online, we can ship it direct to the location at a very good and competitive price," Lewis says of the CFC model. "I think it's a better customer experience for large customers. The goal of the CFC is to really be a selling and service hub for larger key accounts. That is increasingly becoming a priority because those are the accounts where we bring a tremendous amount of value to that kind of customer. We get a good return in servicing them. That's where we wanted to make sure that we are focusing our sales energy and resources." 
Lewis says some customers still prefer to visit the remaining branch locations to browse the shelves in person, but even smaller customers get a good buying experience by shopping online through Fastenal's e-commerce platform. 
Turning transactions into customers
Fastenal picked up some new customers last year during the pandemic as it focused more on PPE and new verticals, but Lewis says Fastenal's success is based on more than enabling transactions. "We don't want to simply take an order and fulfill an order," Lewis says. "Ultimately, we want to be embraced as somebody that can reduce the cost of your supply chain." 
Pandemic demand "introduced us to end markets that we don't have the same presence in as we do with the industrial marketplace, or in the construction marketplace," Lewis adds. "What we have here is an opportunity, through a transactional interaction, to make a contact that we didn't previously have. The challenge going forward is moving that relationship from a transactional one to one where we are beginning to offer more and more of our services, whether that be vending machines or bins or on site in some locations and then turning that from a  transaction of convenience to a supply chain relationship. That's our niche in the market."
RELATED CONTENT:
Fastenal Continues 'Journey of Service' With 1,000th Onsite Location
Digital Transformation