Pronunciation: (Fay-Bor-Eee)
"MASTERS IN FASTENERS"
Fastener News Desk highlights digital transformation, eCommerce, and new technology as it relates to the fastener industry.
FND had the opportunity to speak with Fabory's, Richard Rijsterborgh, Sr. E-commerce Manager about his experience in launching the new Fabory ecommerce webshop. FND recently reported on two strategic acquisitions from Fabory and decided to look a little closer at their business and growth strategies. We learned that the company had recently re-launched their ecommerce site and were seeing excellent results from their digital investments. 
About Richard Rijsterborgh 
Digital expert with experience in defining and scaling digital end-to-end experiences in both B2C and B2B markets. Deep understanding of digital strategy, digital marketing and business transformation to support sustainable acceleration and growth. Excited about both establishing and reshaping digital teams towards operational and customer excellence. Balancing team member and business needs to improve people engagement and deliver outstanding results.
Fabory is Europe's specialist in fasteners, with a leading market position in the Benelux. More than 400.000 products and supply chain solutions for both the OEM and MRO markets. Active in 10 countries with 1.000 employees and over 200 mln in yearly sales of which 50+% is digitally ordered. As part of the senior leadership team, I am leading the e-commerce activities and digital transformation in Europe. Coaching a team of 10 FTE (excluding bureaus and freelance) in the areas of digital acquisition (SEM), digital retention, webshop development and marketing.
Focusing on acquisition and retention of small and medium sized business supported by a digital/online proposition. In the strategic planning B2C and B2B tactics meet, as the behavior of buyers from these businesses is "consumer-ish" in the online landscape. P&L responsible for Digital Sales and reporting directly to the Managing Board.
Leading the transformation process where digital is leveraged to improve customers experience across the board and reduce cost to serve. Exciting and intense people change process where customers and our own teams are enthused about the digital opportunities.
People leader, change, developing strategy and bringing it to the floor, online marketing and sales, budget responsibility (mln), webshop development (SAP Commerce Cloud).
---
FND INTERVIEW:
Hi Richard, Thanks for speaking with Fastener News Desk. Please introduce yourself to our readers and share a little about your role at Fabory.
Intro: So nice to meet you. I am Richard Rijsterborgh. I am responsible for the ecommerce activities at our organizations. Which entails a very broad spectrum of activities that I perform with our team. Reaching from, the smaller to medium sized customers where we have a full end-to-end digital solution and reaching up to the big OEM clients that are in our portfolio. Our mission is to support the end-to-end customer journey with digital solutions, but not limiting human interaction with our key account managers for those customers.
FND: Fabory is a well-known brand for fasteners. I believe many fastener industry people in the states remember that Grainger had acquired the fastener business at one time. Fast-forward to February of 2020, Fabory was acquired by Torqx Capital Partners a Dutch private equity company, as well as adding a new CEO last March. How have these changes in ownership and leadership been a catalyst for your digital investments and initiatives?
RR: Well essentially, I can say that under Grainger we were moving towards a broad spectrum in terms of product portfolio and focusing on the MRO markets. Traditionally, we are a company that has existed for 75 years. We originated in the Nederland's and are active throughout Europe. The core of our business is fasteners. The slogan that we have used in the past and are still using today is 'We are Masters in Fasteners'.
So essentially what we would like to achieve is that our customers, and potential customers understand that if you can't find the fastener with Fabory it doesn't exist.
Mainly that is the change we have undergone with Torqx, our current owner and our new CEO. We went back to that core principle, so this is the most important change that we've had over the past year to 1-1/2 years, going back to the core of fasteners, being that specialist, having that specialist portfolio and investing in adopting our digital capabilities around that.
FND: The fastener industry while well-established has demonstrated resistance to digital changes necessary to any successful companies' competitiveness today. It must be exciting to work with a well-established firm that has the vision for the client experience of the future. Can you tell us about how you put together a team for your ecommerce initiative?
RR: I joined Fabory around 3 to 4 years ago. Before that I also worked in the area of eCommerce, the majority was focused on B2C markets. I made the switch to Fabory because I could see the potential for development in terms of digitization and eCommerce within the B2B markets and the industry that we as a company are active in.
There are two important aspects there. One is that the big clients that we serve, OEM customers where we try to support the entire journey end-to-end with digital solutions. Second, for the smaller and medium size companies within B2B you see a shift of buying behaviors. I would say, that is kind of consumer-ish behavior. Of course, journeys are different between consumers and businesses. There are a lot of aspects that are specific to B2B but there is more and more consumer-ish behavior within these smaller-sized companies when it comes to buying their products, especially when it's a convenience product or a commodity like fasteners.
The online experience that our customers or potential customers expect becomes way more consumer-ish. So, what I've done over the past three to four years is also adapt the team to that. So, of course it's very important in our market with a very specialized product that we have specialist on the team. When it comes to for example, product management, content management, presenting it online the way that you search through products, etc. But additionally, as important are team members that understand how we acquire new customers, how digital marketing works both within B2C and B2B. Even people with experience in B2C have joined the team and are now finding out how to translate those customer experiences with success in B2B. The same goes for attention and loyalty, a lot of experiences that we have seen in B2C markets we are now translating and adopting to B2B. It's not one or the other at all, but a combination of things that work within B2C can be a benchmark or foundation of a B2B strategy.
FND: Congratulations, the new website looks and functions very well. Are you pleased with the results from the technology platforms and partners you choose to work with? How did you go about selecting your technology partners?
RR: So, two questions. One, am I satisfied with where we currently are? No. Because we still have our plans. We still have our big investments and the vision we have as a company where we would like to go. But, having said that we have come a long way. Many new functionalities have been added to our web shop. We also provide an app for our customers to bring convenience and the web shop can also be used by our own teams to support our customers. So, from this perspective we have come a long way. At this point in time those digital functionalities are outperforming the growth of the rest of the organization. That is extremely positive. That is what we are seeing and why we as a company are investing in these digital processes and the development of them.
Second question, how we select companies that we work with. First of all, the backbone of our organization is run on SAP. We use SAP throughout our supply chain, in finance and within our eCommerce. The partners that we select are often partners that are closely related to SAP, and that have a proven track record with other organizations, in other industries with the backbone that we use. Also, of course based on their experience and the needs we have as an organization and whether those partners could fit or not. For example: with Innovent Solutions, the partner could be overseas, the world is the playground. We select our partners based on how well they connect and understand our business cases.
FND: What was the transition like for a company started in 1947 moving to the cloud? Can you share how important this change is to your agility to grow and to implement customer experience changes very quickly?
RR: Well, that is a complex question. We have come a long way. As I have said I've been part this digital transformation journey for about three to four years. Even before I joined this organization there were many initiatives in the digital area. As a company we believe that at this point in time within our industry, especially in the markets where we are leading the market, we are the benchmark.
For example, the customer journey where we talk about order intake, over 50% of that at this point is digital and looking at the industry where we are in those are great numbers. But still, we are trying to improve and trying to transform everyday still in those processes. It's not easy because it means change. It means change for our own teams, for our people, for our customers and you have to do it step-by-step. That is the journey we are on today as a company, trying to improve and introduce new digital capabilities and to have our teams adopt to them, and of course our customers as well.
FND: In our preparation for the interview we learned that your ecommerce site houses over 250,000 fastening products. How important was good, clean, and accurate data to your digital transformation of your ecommerce site?
RR: Extremely important! Extremely important. We have found and I believe that every company who is on a digital journey, a journey of automatization, of automating processes finds out that data makes everything transparent, including within your own company. So, if the data is not sufficient, automation and digitization does not work. The amount of products or articles that we the number can vary because we have many variances of course depending on sizes and all the characteristics of our products. If you take all of those it can reach up to 450,000 different articles that are available on our web shop as products for our customers. So, you can only imagine how important that it is to have that data correct.
The advantage I would say that we have is such a long legacy. That over the past decades our teams have started to create classification models of product characteristics specifically for fasteners. Which has given us a great advantage when publishing it on the web shop and allowing our customers and potential customers to find those products. But when we look at additional ranges of products such as safety items that we also sell which need to be very closely related to those fasteners, we would like to be able to offer them to our customers. That is where it becomes harder, because it's not our specialty, it's not our core business and we just find that having such a big number of products on the web shop if we don't have the right content or article data available it becomes very hard for our customers to find the right the products at the right time.
FND: In which order of importance would you say are the most important factors when beginning the digital transformation: Team, Data, Platform, Partners, Customer Journey, or a combination?
RR: It will always be a combination, right. That is probably the political and easy answer. I would say that people are most important. So, TEAM for me is most important. Every aspect that you name is essential in getting the right strategy and to get this moving. But if you don't have the right people and the mentality within people, and not only the new people. So, if we build our digital capabilities and it might be that for some aspects, we get new people in our team that have experiences in other markets, other industries, very specific knowledge to build on our digital capabilities. But much so there is a sitting team that have been servicing our customers for years and years and are now introduced with new digital ways that we must take along in this journey. It's also the mentality and openness of those people and guiding them, setting the stage as leadership which is super essential to make this work. So, what I would say is most important there is Team.
FND: In our research I learned that as part of the challenge when you were creating the site, a focused attention to the fact that customers are typically shopping for fasteners that have similar descriptions and attributes, where a small difference in an attribute is the difference between the right products and the wrong product. How did the Solr search and the Innovent Solutions: FindTuner® assist with accomplishing this challenge?
RR: This is very true. It could happen that if a customer searches for a product with general characteristics it could lead to 5000-8000 results, which makes it very hard then to understand what the product is being searched for. So, we have come up with solutions that I would say, we are not the only one or eCommerce organization that has introduced that, but we try to develop the technology and make it as easy as possible for our customers, and the tooling has allowed us to do that over different axis. One is what we call facets or known in the market as search filters. On the left side of the search page, you will find the most important characteristics connected to the search query you have typed in, where you can make a refinement in terms with what exactly what you are searching for. Secondly, we have a lot of data available based on our customers behavior, the buying behavior of our customers, where we can make a first judgement of what are going to be the most relevant products to that search. So essentially layer one would be how well does a products match to the keywords used and then we have an immediate layer that says something about is the product in stock, what is the buying behavior of this customer, how much of this product do we sell over a certain period of time which gives an extra boost of words in terms of relevance. Lastly, what we have also done is that we've introduced what we call guided search where essentially, we ask our customers on top of the search results basic questions on what we believe are the most important characteristics of products with that search query. Where the customer can answer and immediately the number of results will go down. So, in terms of strength of the products, sizes, you name it, all the different characteristics are mentioned one-by-one until the customer has found the right product.
FND: What lessons did you and your team learn about the digital transformation that was an unknown factor before the beginning of the ecommerce project?
RR: There were many. So many. I will try to think of one that is relevant in the case which we are discussing today. I would say that when it comes to search and product search, which is the tool we used from Innovent Solutions. It's the continuous learning curve, in trying to understand what we have available as an organization to offer to our customers and find ways to present the majority of products to our customers in the right way. Essentially, we would like to achieve that of course our customers are able to find what they're looking for in the shortest number of steps. That is a continuous learning curve, especially in the beginning. I wouldn't underestimate that, but it's a continuous journey and it's very hard. Secondly what of course the learning curve that we go through is the different methods, I would say KPI's that we monitor on the search and behavior of visitors of our web shop. We are continuously using that as fuel to make optimizations.  So, at some point we have come to the point where we say, what is the next steps, where to go now, what products to focus on, what areas to focus on, and that is absolutely of course where you need the input from the customer. Not only the data we can get from the behavior, but also discussing it with our customers, discussing it with our own people, specialists that we have, account managers, key account managers, product specialists and getting all that information into the system. That's a continuous journey, we are not there yet but I think that is a very important learning when it comes to search. 
FND: What metrics are you using to determine the success of your digital business investments?
RR: Overall, it is two things: #1 is customer experience. Its high up there.
Second, we look at cost to serve and we try to find the right balance between the two. Those two are important to us. Cost to serve doesn't necessarily mean that we need to bring cost down and down. What is essential here is that we are seeing that for example our teams at inside sales are and have been servicing their customers in great ways, trying to have that customer on the number one position every time. At the same time there are a lot of questions coming in that are repetitive and that is where we are able to support the customer easier online. Think about a question like, Can I get a copy of an invoice? Or where is my parcel? Typical questions where we have readily available answers in the B2C markets with the environments all these platforms offer, but where you see development within B2B and we have been trying to address that. That is also a performance indicator that we use on how we can serve our customers in the best way combined, how can we set up our teams for success and have our teams work on improved retention. True product depth questions that our customer has, to show authority, to show that specialism, but also acquisition of course, that is what we want are people to be working on instead of the repetitive questions that we get from customers. That is very important to us in the journey.
When looking specifically at search there are very specific and specialist KPI's I would say, but imagine zero results KPI, the customer are typing in queries in search bar everyday where we do not bring back results, and that could be for example that a product name might be a specific dialect. There are working names for products that are typically very regional that we don't have in our content and we are trying with those KPI's to also improve our search. There are many KPI's we use for search, like the amount of refinements a customer uses for a search, how quickly they can find their products. KPI's like that.
FND: With the technology investment in place, does Fabory plan to have a stronger presence in the No. American market?
RR: So the answer at this point would be no. If we look at our current owner, TorqX Capital we have a very strong focus on the European market and to establish our business there. We are a market leader in Nederland's and Belgium. We are working on becoming a market leader in specific countries and specific industries.
I noticed that Fastener News Desk had the news of our recent Importinox acquisition. In October 2021, we also had an acquisition of Kebek in Chech. These acquisitions are adding to our specialism and to our market position, in areas we see as strategic regions. Kebek provides specific supply chain solutions where we are also developing ourselves in. The acquisition of Kebek has allowed us to accelerate our market position in Central East Europe.
FND CLOSE: Technology is amazing tool. Via Zoom, FND was able to sit down with Richard live from the Nederlands to discuss eCommerce, European markets, the fastener industry, product data and the customer experience.  It was refreshing to hear from a fastener company that has been in existence since 1947 but is now utilizing new ways of thinking and exploring technology to provide the client a best-in-class customer experience.
FND wishes the very best to Richard and his team at Fabory for continued success and prosperity.
---
ABOUT FABORY
Fabory Group
is a leading European supplier of a wide range of quality fastener solutions and industrial products to a broad range of industries (OEM, MRO etc.). The company, headquartered in Tilburg, the Netherlands is active in 11 European countries and has activities and sourcing centers in India and China. The group has revenues of over €220 million and 1,100 employees and is strongly positioned for its next stage of growth. Fabory is a strong, innovative and reliable partner to its customers. It offers a one-stop-shop with more than 400,000 products (of which 120,000 in stock) to more than 60,000 customers and handles over 7.5 million orders a year, including 24/7 webshop ordering. The group's history goes back to 1947. In 2011, Fabory became a part of W.W. Grainger, Inc. (NYSE: WWG), a Fortune 500 company and North America's leading broad line supplier of maintenance, repair and operating products, with expanding operations in Europe, Asia and Latin America. For more information please visit:
www.fabory.com
.
ABOUT TORQX
Torqx Capital Partners is a Benelux based private equity company that invests in medium-sized companies with significant value creation potential. Situations include growth-, buy-and-build-, performance improvement-, turnaround- and transformational investments across a range of industries including manufacturing, distribution and services. Torqx acquires majority positions based on a partnership with co-shareholders and management teams, offering the companies smart capital, network, expertise and talent to support implementation of their plans and achieve their full potential. The Torqx team consists of 12 highly experienced and skilled professionals who look beyond spreadsheets and understand what it takes to build businesses and increase momentum. Torqx currently invests out of a € 150 million fund backed by reputable international institutional investors and the Torqx team itself. For more information please visit: www.torqxcapital.com.
---
RELATED CONTENT: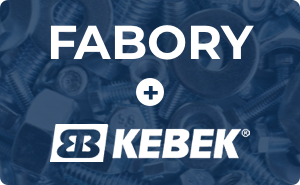 MASTERS IN FASTENERS: FABORY ACQUIRES KEBEK GROUP. Read more:
---
Torqx Capital Partners acquires European fastener group Fabory from W.W. Grainger Read More:
---
Fasteners
,
eCommerce