In The News…
After a long holiday weekend, the nation gets back to school and back to work!
Here's what's happening in and around the fastener industry this week…
Watch Now: (11:09)
---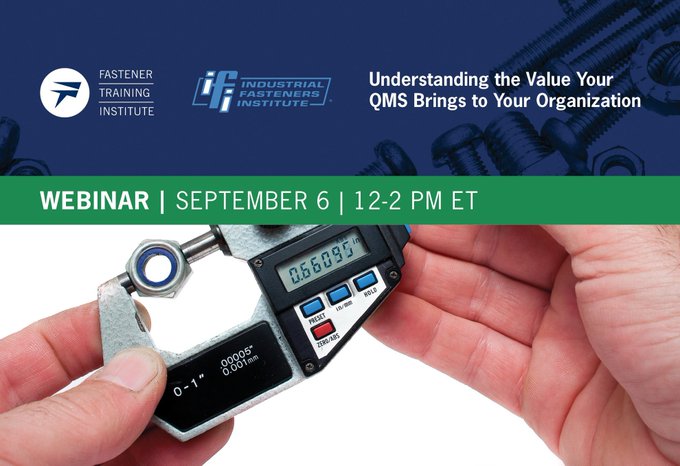 Happening today is a NEW WEBINAR from the Fastener Training Institute: Understanding the Value Your QMS Brings to Your Organization. The LIVE, TWO-HOUR ONLINE TRAINING is Co-Produced by Industrial Fasteners Institute. Go to FastenerTraining.org to learn more about upcoming webinars and training opportunities.
---
In Fastener News…
The St. Louis Federal Reserve (FRED) Producer Price Index: Bolts, Nuts, Screws, Rivets, & Washers hit another all-time high of 289.384 in July 2022. Do You Know What the acronym FRED stands for? It's short for Federal Reserve Economic Data, FRED is an online database consisting of hundreds of thousands of economic data time series from scores of national, international, public, and private sources. FRED, created and maintained by the Research Department at the Federal Reserve Bank of St. Louis.
---
Phoenix-based, family-owned & operated Copper State Bolt & Nut Co. is expanding its 50-year presence in new Class A #distribution center in Goodyear, AZ. The new Copper State warehouse and distribution building will total 39,491 square feet on 5 acres. Founded in Phoenix in 1972 with six employees, Copper State today employs almost 500 and supports more than 20,000 customers across the West and Southwest. It provides traditional fasteners, construction products, industrial supplies, and specialty products to a wide range of construction- and manufacturing-related industries.
Copper State CEO Sarah Shannon said "We have spent 50 years evolving to support our fast-paced, service-oriented industry, and our latest expansion is no exception," "This new facility expands our reach farther into Phoenix's West Valley than we have been before, where so many of our customers are building and operating in response to a nearly unprecedented commercial and residential boom. With our new location, we will be right where they need us to be."
---
In other news affecting distributors is the possibility of one of the biggest strikes in US history is said to be brewing at UPS. Contract negotiations are set to begin in the spring between UPS and the Teamsters Union ahead of their current contract's expiration at the end of July 2023. Already, before the talks have even started, labor experts are predicting that the drivers and package handlers will go on strike. Read more about this story from CNN in our twitter @FastenerNews feed.
---
In a NEW Report from the Reshoring Initiative found that in 2021 the private and federal push for domestic supply of essential goods propelled reshoring and foreign direct investment (FDI) job announcements to a record high. Reshoring Initiative 2022 data shows reshoring and FDI continuing these gains. The current 2022 projection of jobs announced is around 350,000 – another record, up from 260,000 in 2021. If the projection is achieved, 2022 will bring the total jobs announced since 2010 to over 1.6 million. Supply chain gaps and the need for greater self-sufficiency continue as major factors driving reshoring. Read the full report featured at Fastener News Desk.
---
If you haven't already done so, it's time to register for the 41st edition of the International Fastener Expo, which will take place in Las Vegas October 17-19th.
The International Fastener Expo is Largest B2B expo of Industrial Fasteners and Tooling & Machinery in North America. Since 1981, the event continues to bring together the manufacturers and master distributors of fasteners and other related products and services with distributors and sales agents in the entire supply and distribution chain.
IFE Exhibitors! With more than 300 companies already registered, space is running out to exhibit at this year's expo. Don't miss your opportunity to make an impact at the largest B2B expo for #fasteners!
---
IFE Exhibitors It's Game On: The Fastener News Desk Best Booth Awards return to the 2022 International Fastener Expo! IFE will be sponsoring the Best Booth Awards (that are pretty dang cool) from Trophy Smack! We're so excited to be BACK in-person, we plan to immortalize your hard-earned victory with a professional-grade championship belt. This year the overall BEST BOOTH AWARD WINNER will claim the Best Booth Award's first ever customized Championship Belt. We can't wait to see your creativity this October in Vegas! Who will claim the title?
Go to https://fastenershows.com to book your space today!
GET REGISTERED FOR IFE 2022 USING THE FND Discount Code: FND50
---
The International Fastener Expo will FEATURE Keynote Speaker. Dirk Beveridge at IFE 2022. Dirk is a visionary entrepreneur and the founder of UnleashWD. Dirk has authored four books including the bestselling INNOVATE! How Successful Distributors Lead Change In Disruptive Times.
---
Dirk recently published a NEW Report: The State of Leadership Throughout Distribution. Over 200 executives provided an unprecedented look into how the nature of leadership is changing in distribution. Get details on how to download the new, landmark call-to-action report now at Fastener News Desk
You won't want to miss Dirk Beveridge your IFE 2022 keynote speaker. Register now at FastenerShows.com use the FND discount code: FND50
---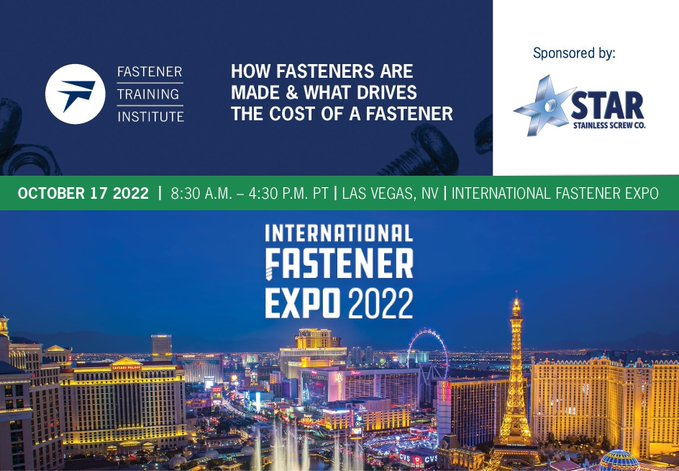 REGISTRATION IS ALSO OPEN FOR Fastener Training Institute's "How Fasteners are Made and What Drives the Cost of a Fastener" CLASS that will take place at the International Fastener Expo. For Registration and more info go to: https://fastenershows.com/fti-class/
---
In Manufacturing News…
? Manufacturing Day is right around the corner! This year the month-long celebration of MFG Day 2022 will kick-off on Friday October 7th!
MFG Day is manufacturing's biggest annual opportunity to inspire the next generation to start careers in modern manufacturing through a series of focused events to promote manufacturing to students, parents, and educators. Plan to open your doors Oct. 7 or throughout the month of October!
Get a helpful resource guide, toolkit, and all you need to get started planning your Manufacturing Day event at MFGDay.com Use #MFGday22 to share your event!
---
In Fastener Event News …
On Thursday, September 8th… Grab your golf clubs and join the North Coast Fastener Association and industry friends for a fun day of golf at the NCFA Screw Open Golf Outing. This event is open to everyone! Go to NCFAonline.com for all the details.
---

Pac-West Fastener Association 2022 Fall Conference. September 14th-17th in Denver, CO. Registration is now open go to www.pac-west.org
---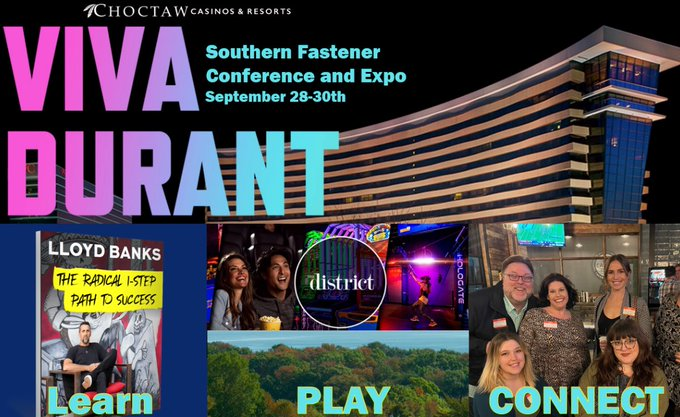 Join the Southwestern Fastener Association for the Southern Fastener Conference and Expo taking place in Durant, OK Sept. 28th-30th. Get more info at https://www.southwesternfastener.org/
---
The stories featured in this week's episode of IN THE NEWS can be found at Fastener News Desk or in our Twitter feed @FastenerNews and on LinkedIn in the Fastener News Group!
---
Industrial products are comprehensive and purchasing them online can lead to poor customer experiences when utilizing faceted search. The Product Genius's grid technology allows your clients to search, sort and purchase 100's of products from a one-page buying experience. Experience and Demo FAST Fastener buying at 1-800-Fasteners.com.
PGT's services also include, data cleaning and preparation, consulting, and strategizing. Contact ProductGeniusTechnology.com or call 1-800-fasteners to find out how to get started today.
---
If you would like to share your company's events, news or sponsor an upcoming episode of IN THE NEWS or would like to add to the Fastener Museum me: lisa@fastenernewsdesk.com.
---
Thanks for tuning in to this week's episode of IN THE NEWS with Fastener News Desk.

Until next week, be well, be safe and Keep it Fastenating.
---
---
RELATED CONTENT:
IN THE NEWS with Fastener News Desk the Week of August 29th, 2022
IN THE NEWS with Fastener News Desk the Week of August 22nd, 2022
Fastener TV