Every year the fastener industry gathers together at the International Fastener Expo to network, do business and celebrate those who have contributed to the industry. Meeting with and listening to the inductees' stories is one of the highlights of the show, always drawing the largest crowd. Those who introduce the inductees share personal experiences they've had with the newest Hall of Fame members and you learn something more about them with every story. This celebration of people and history confirms why the fastener industry is one big family, built to last!
The Fastener Hall of Fame recognizes professionals who have made significant and enduring contributions to the industrial fastener industry on a national or global scale. Individuals selected for induction will join other honored industry members, including but not limited to inventors, business leaders, and educators.
The Young Fastener Professional of the Year award recognizes and honors a young professional who has made significant contributions to fastener industry.
The recipients were recognized at a special event during the International Fastener Expo and received a commemorative trophy. The 2022 IFE Fastener Hall of Fame and Young Fastener Professional Award Ceremony took place on October 18th. Industry colleagues, family and friends gathered at Sessions Stage to honor and recognize the award recipients.
---
---
2022 FASTENER HALL OF FAME INDUCTEES
See 2021 Hall of Fame Winners here.
---
---

---
---
Morgan Wilson: Hello everyone, thank you for joining us today.
Welcome to the 2022 Fastener Hall of Fame and Young Fastener Professional Award Ceremony. We're really excited to continue the tradition this year hosting our annual awards at our event. We've got a great lineup this year. I'm honored to be able to be up here on stage and present these to everyone. To give us a little background on the process, we'll be presenting two different prestigious awards this year. The first one, the Fastener Hall of Fame Award, which honors professionals who have made significant and long-lasting contributions to the fastener industry on a national or global scale. The second award is the Young Fastener Professional of the Year. This recognizes a young professional who has made noteworthy or impactful contributions within the industry. Nominee applications are submitted throughout the year. We partner with the Fastener industry Coalition. The Coalition is made up of a representative from each industry association. Then what happens is the Coalition ranks the list through a series of votes and they narrow it down to the finalists. And the winners will be recognized today. Thank you to all the board members on the FIC for your time and effort. We know you put a lot into this and we truly appreciate it. Please join me for a round of applause for all these folks. Now to get the party started. We're going to get going and celebrating the inductees. I'm delighted to begin our 2022 Hall of Fame and Young Fastener Professional Award Ceremony. We're going to start it off by bringing up John Wachman of Desert Distribution to introduce our first Hall of Fame winner.
---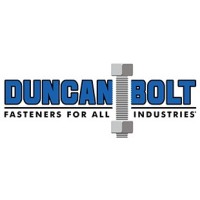 ANDY COHN, DUNCAN BOLT 
Overview: Full line fastener distributor and manufacturer with branches in California and Arizona.
Website: 

http://www.duncanbolt.com
John Wachman: Thank you Morgan. We really appreciate Morgan and his team at IFE for continuing the tradition of the Hall of Fame. I'm here today because Kevin Costner couldn't make it. He had to take somebody to the train station. If you don't watch Yellowstone that made no sense at all.
I met Andy first as a customer then as a colleague and I've learned to love him like a friend. He is second generation fastener although he did not spend his life in his family business. He bought a small distributor in Los Angeles and not a nice neighborhood in Los Angeles. He grew it into a large company including a division in Phoenix and one in China. Andy has been active in all of the Fastener associations. The Midwest, the Metropolitan, Pac-West, NFDA and he helped launch the Fastener Training Institute. He also was one of the founding members of the Fastener Education Foundation. We're running short on time and we've got a lot to do so I would like to introduce my friend Andy Cohen.
Andy Cohen: Thank you very much John. I've got two conflicting pieces of information. The first of which is, I got 30 seconds and the second one is, John told me that one time he was here at one of these and somebody was talking who won this award. He said 10 minutes in he was still in the third grade so I'm certainly not going to do that. I ended up getting into the fastener business because I couldn't get a job. My father said we got a customer out in San Francisco and he's hiring in the warehouse but I warn you it's a buck and a quarter an hour and I was like okay. I don't have much choice. Since then, it's been mostly a very fun ride. Met a lot of wonderful people. Many of whom are standing or sitting here. And I really don't have anything to add other than thank you all very much and retirement ain't bad either.
---
 

TIM MALONE, SPRING BOLT AND NUT MANUFACTURING 

Overview: Founded in 2001, Spring Bolt and Nut Manufacturing has been helping companies fill rush orders and been turning prints into reality for over 15 years.

Website: 

http://www.springboltandnut.com/

Morgan Wilson: Now we'd like to bring up our next presenter for our second Hall of Fame winner. He'll be introduced by Richard Sivley, President of Spring Bolt and Nut Manufacturing. 

Richard Sivley: I'll be short and sweet because that's the way I think it should be. First of all, I wanted to say congratulations to all the award winners today. I think it's awesome, you guys have done a great job. Secondly, I just wanted to introduce very someone very special to me. I met him 30 years ago, I think. He's a mentor to me, He's taught me more than I could ever convey to anyone else. He's also a business partner of mine and he's also one of my closest friends. Mr. Tim Malone. Thank you.
Tim Malone:

Well, all I can say is I love the fastener industry. I think it's one of the few things in the U.S that you can start a business from.

I mean so many of us have done that. You don't need much. You start a little business, and you grow it like Andy did into a big place. Richard and I grew it into a pretty nice machine shop, forging shop. One of the biggest factors I think in all of this has been the Southwest Fastener Association. I met so many people through the associations and the different committees and things and it just it expanded my knowledge, my networking, whatever you want to call it. Just a lot of really dear friends. Which I think the fastener industry as they've said it's a family. We're in it and we're never going to get out of it. It's just life. I love it. The other person I want to thank is Mr. Ralph Walker who started Walker Bolt Manufacturing and just was one of the neatest guys ever. If you got a chance to meet him, he always chewed on a cigar. Always had some tidbit from a football coach to tell you. You know some little thing and the one that always stuck in my brain, he would always say what Bear Bryant said, "We'll go with what brought us." That's what we've always done. We love short runs, fast delivery, high prices. You know that's what we love, and we like to keep it that way. Thank you all.
---

RICK RUDOLPH, PRESIDENT AT RICK RUDOLPH ASSOCIATES LLC 
Overview: Manufacturer's Representative Agency in the Northeast | Rick Rudolph Associates is a Manufacturer's Representative Agency representing the highest quality manufacturers, master distributors, and importers of the finest fasteners, hardware, tools, electronic components and related products and services to Northeast distributors. Rick Rudolph Associates, based in Melrose, MA, has a team of experts that can provide the resources and solutions you need to get the job done right!
Website: https://rickrudolphassociates.com/
Morgan Wilson: I would like to bring up on stage Mr. Morgan Rudolph from Rick Rudolph Associates to present his father's award for the Hall of Fame.
Morgan Rudolph: The Fastener industry. What a great thing is to be a member of this community and of course I have my father Rick Rudolph to thank him for introducing me into this business. Some might call that child abuse but so far things have gone well. They're going pretty well. As I stand up here I realize that the challenge of presenting a speech about my dad, my boss, my mentor, and a guy that some of you might know nearly as long as I've known. To be candid I'm not really that young now myself. One thing I do know about this industry and the members of the Fastener Community is that they do not like long speeches, so I hope to keep this short and sweet.
I'm going to set aside my feelings about this man I called Dad and I'm going to stick to the business side in this presentation. I'll just stick with calling him Rick. Quickly I'll give you a rundown of my dad, Rick's career. In 1971 he joined Rhode Island Bolt and Screw as the Massachusetts branch manager. In 1975 he joined Precision Socket Screw as their national sales manager. In 1985 he became a partner in Hendrickson and Rudolph Associates. In 1988 he became partner of New England Bolt in Everett, Mass. In 1993 he became a partner in Fallon and Rudolph Associates. In 1997 he was the president of Northeastern Fastener, now Wurth Revcar. In 2004 joined Lehigh-Armstrong as director of sales. In June 2013 he formed Rick Rudolph Associates which of course is when I came into the picture.
Okay, I know I was going to avoid the father son discussion here but let's be honest I was born in 1974. As a kid you look for stability at home, right? Yeah, you get it, I had a dad that could not seem to hold down a job. I mean every few years boom, he was working for somebody else. Sorry, sorry I was just going to stick… we're going to pull it together and just call him Rick. As a member of the Fastener Community now I'm in awe of Rick's vast work experience. He was a sales manager, he ran a manufacturing facility, he worked for a large distributor like Wurth, and he recreated his rep agency several times with different business partners. Rick has pretty much seen it all.
I think one of the reasons he is being inducted in the Hall of Fame is he has always stayed involved. He has had Rick Rudolph and Associates join several regional and national associations and he still regularly attends each event. As a partner I also attend. My dad or Rick got me involved in this industry, joining all these associations and lo and behold, I'm now the president of the New England Fastener Distributors Association. I mean it was good to go golfing and out to drink a few cocktails at parties but now I have responsibilities and it's not just fun and games. You led me down this path, this guy Rick. He knew I could fall into this pattern but he let it go. At the beginning of the speech, I said I'll keep this short, and I will I know. My dad Rick has many friends and associates here today, and I want to thank each and every one of you for showing up to honor him. His industry friendships mean the world to him and to me too. Without further delay I want to welcome my dad Mr. Rick Rudolph to the Fastener Hall of Fame.
Rick Rudolph: Thanks, Morgan. I'm really truly humbled by this honor. I just love this industry. I love all the people in it. My kids you know, I'd go off to Columbus for the Fastener show every year. They thought I would be gone for a week out there. They all thought I had a second family in Columbus, Ohio. They'd say you're going to go visit the other family, dad. The fastener industry has been very, very good to me. When I told my mom when I first got out of college, that I landed a job in the fastener industry she said oh wonderful, buttons and zippers and that new thing they invented up in in New Hampshire. Velcro. Is that what you're going to be doing? I said no, I'm going to be selling bolts, nuts, and screws and she started crying and saying how the heck are you ever going to be able to provide for a family! It's been a wonderful ride. It's also been great with the support, the mentorship that I've received over the years. The friendships that I have developed with all of you. And as I say I'm just truly humbled by this honor. It's just wonderful.
Thank you all so much.
---

JOSEPH VOLTRAUER, VOLT INDUSTRIAL PLASTICS, INC.
Overview: With a heritage of growth and hard work, Volt Industrial Plastics is committed to our customers and our future. You are valued. We are innovative and take pride in our company and the products we manufacture. We welcome every opportunity to put our experience, technical expertise and rapid-response production capability to work for you.
Website: https://voltplastics.com/
Morgan Wilson: All right we're on to our final Hall of Fame Award Winner now. Unfortunately, this winner was unable to attend IFE but we're thrilled to be able to have his daughter here. Heidi Voltrauer to present and accept his award this year.
Heidi Voltrauer: I'm going to put this down for a minute I need these. I forgot I have them on my shirt for a reason. I can't see.
For those of you that don't know me my name is Heidi Voltrauer and I'm accepting this honor on behalf of my father, Joseph Voltrauer, who brought me into the fastener industry in 1992. He's the reason I've been a part of this industry that I love for the past 30 years. I currently serve as CEO and president of sales and marketing for Volt Industrial Plastics. I would like to thank Emerald Expositions for continuing to honor people like my father and members of the Hall of Fame who have had such a positive impact on our industry. I want to acknowledge and thank the Fastener industry Coalition. As I know it is the FIC board that reviews the nomination applications and makes a recommendation on who they think should be added to the Hall of Fame. I know I'm biased but I think they made a great decision. I could not be more proud of my father for being inducted into the Fastener Hall of Fame.
My father began his career in 1959 as an apprentice in a tool shop in Chicago. In the mid-70s he founded JB Tool in Chicago, a tool and die company. A few years later he moved JB Tool to Arkansas because of his love of the outdoors and the Ozarks. His experiences there allowed him to perfect the art of mold making. A skill that would prove instrumental in his ability to innovate the fastener industry.
He eventually founded Voltrauer Plastics on his 54th birthday, June 1st, 1992. That was his birthday present to himself that year. In his 30 years as founder and CEO of Voltrauer Plastics he has introduced numerous innovations to build his business and educate a multitude of employees including myself along the way.
My dad has always been a dreamer and he can always see the bigger picture of what something can become. He's not only a dreamer but he puts his dreams in motion and motivates people to help them achieve their fullest potential. He is a team builder, and he knows how to pick the right people to make his dreams a reality.
I personally have learned so much from my dad and I can attest to the fact that he loves this industry so much so that he refuses to retire and he still keeps working to this day at the age of 84. My father wished so badly he could have been here today to accept this huge honor in person but he's here in spirit and now he will always and forever be a part of the industry that he loves by being inducted into the Fastener Hall of Fame. Thank you.
---
---
2022 YOUNG FASTENER PROFESSIONAL OF THE YEAR
See 2021 Young Fastener Professional Winners here.
---
---

BRYAN WHEELER, NATIONAL SALES MANAGER AT STAR STAINLESS SCREW CO.
Website: https://www.starstainless.com/
Morgan Wilson: Now, last but not least we would like to bring up Mr. Bruce Wheeler from Star Stainless to introduce our Young Fastener Professional of the Year award winner, Mr. Bryan Wheeler.
Bruce Wheeler: Well, I'm glad everyone rolled along pretty quickly with the speeches. It's going to give me a lot more time.
I will keep it to a minute. I've known this year's YFP award winner since he was a little kid, since he's, my son. Bryan, I have a lot of material I can use but I'm not going to. I'm not going to use it all. I never saw Bryan moving forward into this industry. Following behind me. When Bryan got out of grad school, he approached me and he wanted to know what his opportunities were at Star, so we sat down. He started work and that first day on the job I got a phone call from my wife about midday and she said so "Who's Bryan working with. Who's teaching him the ropes? Where's his desk at?" I said his desk is in the phillips pan aisle out the warehouse. That's where you learn this business from. You don't learn it at the desk.
Over time Bryan finally made it into the office and I encouraged him to move forward. Get involved in the associations. Get involved in the industry. Shortly thereafter he approached me and said "hey Dad you going to the next NFDA meeting?" I said yes and he says well I'm one of the speakers. I said hey starting out in the major league. So you ever think about swinging in the minor leagues first and he says no, no. I said let me hear what you got. He says no I got this dad, I got this and he did he killed it.
Bryan's a third-generation fastener person. His grandfather, myself, and him. Between the three of us in this industry in the stainless business we have 108 years within our family. All with Star Stainless.
As time went on Bryan continued to develop and really did a bang-up job. I'm going to tell you really quickly here when I knew he really had it. I had picked up some suppliers from overseas, brought them to the office and it was I was unannounced. I walked in and I looked in someone's office and I saw two big rolls of blueprints. I rolled them out and it was the demolition of my office and also the contracts with the contractor to do the demolition.  At that point I knew the kid had it. I'm being moved out of here.
Bryan, your mother, and I are very proud of you. You've come a long way and I'd like you to come on up. I'd like to introduce Bryan Wheeler, my son, as this year's Young Fastener Professional Award winner.
Bryan Wheeler: When I got the call about this I was actually pretty relieved. It put some context to a previous text message I had gotten when I was at the airport that just said how old are you. It was from one of the FIC board members. I think there was a question as to my age. I'm 36 by the way. I still had a few extra years to make this. Honestly, if you would have asked me 18 years ago when I was at this show for the first time if I was going to be receiving an award or be a part of it, there would have been no question because I wasn't joining the fastener industry. I just wasn't going to do it. Looking back on that now I was wrong because I've done it now for about 10 years and not going anywhere else. I'd like to thank the customers for constantly reminding me that I sound just like my father. Still not sure if that's a compliment but I think it might be. Thanks to my Star family for always being there supporting me and  putting up with me for all these years. Really, it's my parents who pushed me to get here and I'm going to keep doing that one for them. Thank you all.
About Bryan: "Young Fastener Professionals" (YFP) Board member. "Young Fastener Professionals" is a national organization led by young professionals and the companies that employ them within the fastener industry. YFP was founded with the goal to create an inclusive community to empower the next generation of fastener professionals and their companies through education, collaboration and networking. 
Past Awards: 30 Under 30 | Issued by Young Fastener Professionals and Fastener Industry Coalition · Oct 2014
---
Morgan Wilson: We had an amazing lineup this year for the Hall of Fame Awards and YFP. 4 Hall of Fame winners and one YFP winner. It was a great award ceremony. Let's give everyone, all the winners one more big round of applause.
Thank you everyone. There are so many companies, associations, and individuals who contributed to the success of this event. We really truly appreciate it. We're off to a great start this year where everyone seems to be having a great event overall. Thank you all for coming today. Please stick around for a cocktail or beverage and we'll be doing pictures.
Thanks again.
---
---
RELATED CONTENT:
Fastener Event
,
Fastener Expo
,
Fastener Expos
,
Fastener Hall of Fame
,
Fastener News
,
Hall of Fame
,
International Fastener Expo