Here's what's happening in fastener industry the week of March 13, 2023. 
Watch now on FastenerTV at YouTube (11:14)
---
Martin Inc. announced the appointment of Kevin Cozine as the new Vice President of Sales for Martin Fastening Solutions. In his new role, Kevin will be responsible for expanding the market share of Martin Fastening Solutions and collaborating with the sales team across all of Martin's lines of business. Kevin brings extensive experience in operations and sales leadership to his new role. He most recently served as the Director of Operational Excellence at Optimas Solutions, where he led the growth of new customer engagement and expanded the customer engagement team's analytical coverage. Kevin has also held leadership positions at MSC Industrial Supply Co. and H&D Distributors, where he developed and grew key accounts.
Martin Inc. Welcomes Kevin Cozine, Vice President of Sales for Fastening Solutions
---
The seasonally adjusted Fastener Distributor Index (FDI) registered its first expansionary (>50) reading since November, improving to 51.6 from 47.7 last month. Consistent with this, commentary from participants was also a bit more positive this month, with some respondents seeing "some positive signs" for the first time in a while. Looking forward, the Forward-Looking Indicator (FLI) also improved, albeit remaining in contractionary territory, with a 43.8 reading. Overall, the FDI/FLI results suggest February saw improvement in fastener market conditions relative to January.
---
WIFI honors the memory of Maryann Marzocchi, Co-Owner of Distributor's Link Magazine. Maryann served as Co-Owner and Vice President of Sales & Marketing. Working together with Leo for 36 years and with her daughter Tracey Lumia for 15 of those years, The $1,500 scholarship will be awarded to a woman to attend college or trade school. The recipient must have a female family member who is employed by a fastener company.
---
Desert Distribution Sales and Incentive Sales Merge. Jo Morris, Managing Partner at Desert Distribution Sales, LLC, and Karen Ardizone, owner of Incentive Sales, announced that they are combining their manufacturer's representative agencies, effective March 1, 2023, they will conduct business as Desert Distribution Sales and cover the territories of California, Arizona, New Mexico, Nevada, Colorado, and Utah. John Wachman, Founder and Partner at Desert Distribution, expressed his appreciation for the work Karen and Jo did to bring this agreement forward. He also noted the long and accomplished careers that both these women have had in the fastener business.
---
NFDA Virtual Panel Program | Developing Talent | Join the National Fastener Distributors Association on Thursday March 16th at 2:00PM ET for a panel discussion followed by a Q & A session. A panel of industry leaders will discuss tactics for hiring, cultivating, and retaining talent. Engaged employees are the lifeblood of our organizations. If you are a human resource professional, hiring manager, or anyone interested in employee retention, don't miss this event! It's free to attend, but registration is required. Register today at NFDA-Fastener.org
---
The Mid-West Fastener Association is once again sponsoring their popular seminar Fascination with Fasteners on March 22nd – 23rd in Elk Grove Village, IL. The seminar is designed to educate fastener industry personnel. This is not a sales or manufacturing course, but a semi-technical course on many facets of the industry. Register today at MWFA.net
---
Fastener Fair Global 2023 is set for a strong comeback showcasing technological developments in a fast-moving market. After four years, Fastener Fair Global 2023, the 9th international event dedicated to the fastener and fixing industry, returns to Stuttgart from March 21st – March 23rd . The exhibition represents once again an unmissable opportunity to establish new contacts and build successful business relationships between suppliers, manufacturers, distributors, engineers and other industry professionals from various production and manufacturing sectors looking for fastening technologies. For more information and registration go to https://www.fastenerfairglobal.com/.
---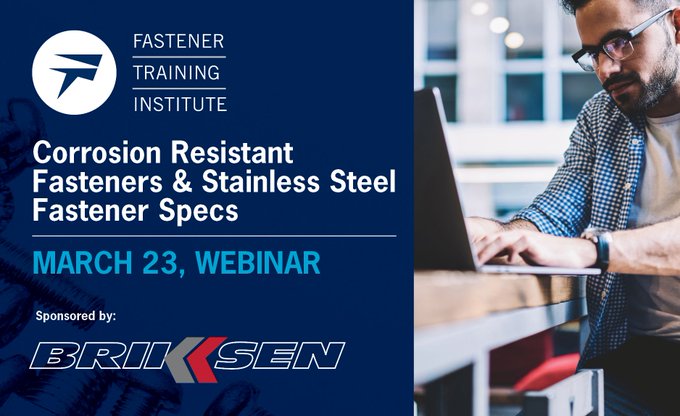 The Fastener Training Institute has a scheduled upcoming webinar. Corrosion Resistant Fasteners & Stainless Steel Fastener Specs. The webinar will take place on Thursday, March 23, 2023, 11:00 a.m. to 1:30 p.m. PT The instructor is Carmen Vertullo, Vice President of Business Development at AIM Testing Laboratory. The webinar will address FIGHTING CORROSION IN FASTENING and strategies to combat it, which cost billions of dollars every year. Industrial, transportation, construction, marine and military fastening applications all have specific solutions to the corrosion problem. This webinar will explore the various approaches to corrosion prevention in each of these areas. Brikksen is sponsoring the webinar.
---
Thursday, March 23, 2023, NEFDA will host their annual Bowling Party. The party will be held at High Rollers at Foxwood Resort & Casino. Attendees will enjoy Bowling, Dinner & Drinks, Prizes and Fun! For more information go to https://www.nefda.com/events/
---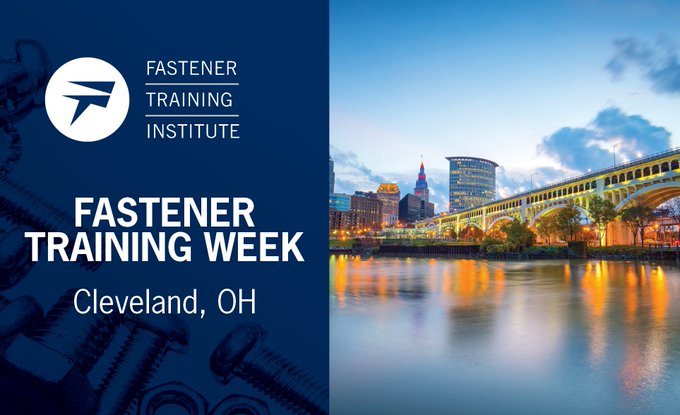 Fastener Training Week in Cleveland, OH will take place April 3-7th. The Fastener Training Institute and the Industrial Fasteners Institute (IFI) continue their partnership to present Fastener Training Week — This robust program includes five days of education and plant tours as part of the acclaimed FTI Certified Fastener Specialist™ (CFS) advanced technical training program. After completing this invaluable industry training in a small group environment and passing a final exam, attendees are eligible for the CFS designation. To register and learn more about any of the fastener training events we highlighted go to FastenerTraining.org
---
Women in the Fastener Industry accepting applications for Margaret Davis Scholarship. Scholarship application submission will offer WIFI Members requesting financial assistance to attend Fastener Fair USA. WIFI honors the memory of Margaret Davis of ISSCO, INC/BTM Manufacturing. Member Applications are due by April 5th, 2023.Apply Now: https://www.fastenerwomen.com/scholarships
---
Dirk Beveridge of UnleashWD has announced the first human resources event for distributors, designed to challenge traditional thinking on HR and help independent distributors win the war on talent. Registration is now open for the UnleashWD Human Resources Summit for distributors, April 27-28, 2023 in Nashville, Tenn.
Seating is limited for this event be sure to register today to reserve your seat. To Learn more or register at https://events.unleashwd.com/HRSummit
---
Have you tried buying fasteners online? Industrial products are comprehensive and purchasing them online can lead to poor customer experiences when utilizing filtered search, buyers are forced to use a multitude of search filters just to find a bolt. Product Genius's grid technology organizes and displays entire product categories from a one page buying experience. Experience the future of fastener buying online at 1-800-Fasteners.com.
Experience and Demo the FASTest Fastener buying at 1-800-Fasteners.com. 
PGT's services also include, data cleaning and preparation, consulting, and strategizing. Contact ProductGeniusTechnology.com or call 1-800-fasteners to find out how to get started today.
---
The stories featured in this week's episode of IN THE NEWS can be found at Fastener News Desk or in our Twitter feed @FastenerNews and on LinkedIn in the Fastener News Group!
---
If you would like to share your company's events, news or sponsor an upcoming episode of IN THE NEWS or would like to add to the Fastener Museum me: lisa@fastenernewsdesk.com.
---
Thanks for tuning in to this week's episode of IN THE NEWS with Fastener News Desk.

Until next week, be well, be safe and Keep it Fastenating!
---
RELATED CONTENT:
IN THE NEWS with Fastener News Desk the Week of March 6, 2023
IN THE NEWS with Fastener News Desk the Week of February 27, 2023
Fastener Association
,
Fastener News
,
Fastener News Podcast
,
Fastener TV
,
Fastener Training
,
Fastener Women
,
Scholarships