Here's what's happening in fastener industry news and events the week of April 10, 2023.
Watch now on FastenerTV at YouTube (12:58)
---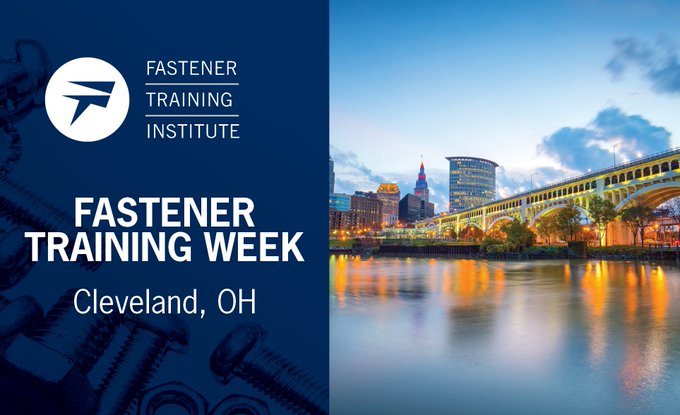 Fastener Training Week wrapped up a week of intense training and plant tours in Cleveland, OH. From classroom learning and hands-on exercises about calipers, torque, metallurgy, materials, fastener failures, hydrogen embrittlement, and bolt tension to touring plants and networking, the students soaked in five intensive days of fastener education. The students will now take the exam to obtain FTI Certified Fastener Specialist™ (CFS) designation. The next Fastener Training Week takes place in Chicago in August. For more information go to FastenerTraining.org
---
In Fastener Acquisition News: NEFCO, a leading specialty supply partner to the professional construction trades, has completed the acquisition of Southwest Fastener. This is NEFCO's eighth acquisition since 2017. The addition of Southwest Fastener expands NEFCO's geographic presence into the Southwest with three new locations in Arizona, New Mexico, and Texas. Southwest Fastener, established in 1990, is a top supplier of strut channel, hardware, strut fittings, and specialty fasteners. The company's team, known as the "Bolt-Heads™," is recognized as industry experts with unparalleled product expertise and years of industry experience.
---
Carmen Vertullo Awarded NFDA's 2023 Fastener Professional of the Year
The National Fastener Distributors Association (NFDA) announced that Carmen Vertullo of Carver Engineering and Manufacturing is the 2023 recipient of its Fastener Professional of the Year award.  The Fastener Professional of the Year award was created by NFDA to honor individuals and companies that make a substantial positive impact on people's lives. Carmen's favorite fastener activity is mentoring new and seasoned fastener experts in developing their fastener expertise and passing on fastener technical knowledge to the next generation. His favorite fastener topics and particular areas of expertise include hydrogen embrittlement, structural bolting, tightening strategies, failure investigation, fastener testing, manufacturing, thread inspection, fastener standards, bolted joint design, CAD fastener drawings, and compliance issues.
---
The seasonally adjusted Fastener Distributor Index (FDI) for March retreated slightly, coming in at 48.6 vs. 51.6 reading last month. Participant commentary suggested slowing demand and recession concerns weighed on sentiment. The Forward-Looking Indicator (FLI) improved very modestly, remaining in contractionary territory at 44.3. Overall, the FDI results suggest March was a touch softer than February market conditions for the fastener market. The FDI is brought to you be the Fasteners Clearing House.
---
Manufacturing PMI® at 46.3%; March 2023 Manufacturing ISM® Report On Business®
Economic activity in the manufacturing sector contracted in March for the fifth consecutive month following a 28-month period of growth, say the nation's supply executives in the latest Manufacturing ISM® Report On Business®. "The March Manufacturing PMI® registered 46.3 percent, 1.4 percentage points lower than the 47.7 percent recorded in February. Regarding the overall economy, this figure indicates a fourth month of contraction after a 30-month period of expansion. The Manufacturing PMI® is at its lowest level since May 2020, when it registered 43.5 percent. The New Orders Index remained in contraction territory at 44.3 percent, 2.7 percentage points lower than the figure of 47 percent recorded in February.
---
Fastener News Desk's NEWS SERIES: FASTENATING is helping Jay-Cee Sales and Rivet celebrate their success story and longevity as 2023 marks their 75th anniversary. In 1948, Jack Clinton founded the company. It began as an Army/Navy surplus store that sold various basic goods, along with a limited supply of fasteners like nuts, bolts, screws, and of course, rivets. Jay-Cee Sales & Rivet is considered the nation's largest in-stock supplier of rivets and special fasteners. The company backs up that claim with 35,000 square feet of space containing over eight million pounds of inventory! Check out their feature at Fastener News Desk and visit them at RivetsOnline.com
---
Fastener News Desk wants to hear from you about our NEWS Series: 'FASTENATING'! We'd love to learn about what's driving your fastener distributorship or fastener manufacturing company forward!
Share your fastener success story with us today!" In 500-700 words tell us what's happening at your business! Check out the details for story lines at the Fastener News Group on LinkedIn.
Your entry could be chosen for a FREE feature at Fastener News Desk which includes premium placement, link to your website, promo in the Fastener News communities, & feature in an upcoming newsletter.
Who's up next? Submit your entry to lisa@fastenernewsdesk.com
---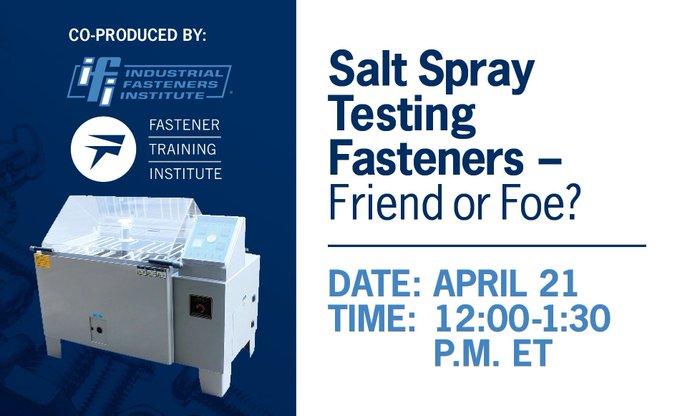 Upcoming Webinar Salt Spray Testing Fasteners – Friend or Foe? will take place on April 21st 12:00-1:30 p.m. ET, Co-Produced by Industrial Fasteners Institute and Fastener Training Institute.   Learn about Salt Spray Testing terminology, the testing process, challenges, and limitations, and more! Register today at FastenerTraining.org
---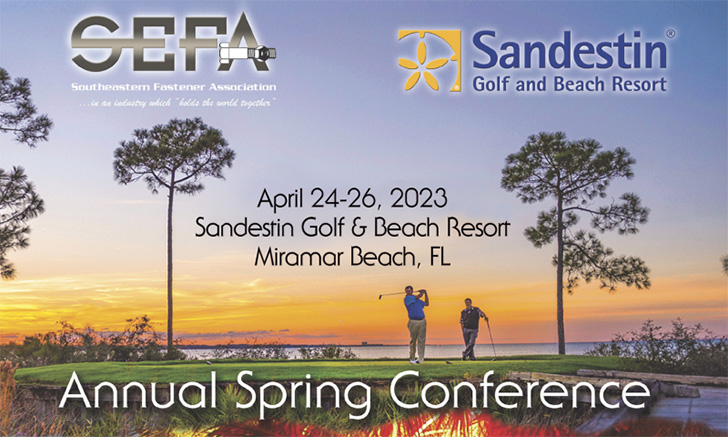 The Southeastern Fastener Association will hold their Annual Spring Conference April 24 – 26th in Miramar Beach, FL. SEFA invites members and fastener friends to attend the event in a great location. Attendees will enjoy a welcome reception, golf outing, cocktail hour, dinner, awards, and silent auction and much more! For more information about the event and to register go to thesefa.com
---
Registration is open for the Pacific West Fastener Association 2023 Spring Conference!  Join the Pac-West organization for 3 days of education, networking, and fun at the Scottsdale Resort at McCormick Ranch. Wednesday, April 26, 2023, through Saturday, April 29, 2023. Register by Tuesday, April 4th to take advantage of the early registration discount. Pac-West.org
---
The North Coast Fastener Association announces the 14th Annual Distributor Social happening on Thursday, May 4th in Independence, OH from 5 – 8pm. The Distributor Social is the largest networking event for the fastener industry in Cleveland and surrounding areas.  The NCFA Distributor Social brings together many of the top distributors and supplier companies in the industry to network and socialize, while enjoying a few drinks, appetizers, and desserts. The event continues to draw hundreds of attendees each year because of the simplicity it offers.  The NCFA Distributor Social is just that, a time to be social with current/potential customers and industry friends, in a more casual setting than a traditional fastener shows. Register Now!
If you're attending the NCFA Social you won't want to miss the opportunity to help Kerr Lakeside celebrate their 75th anniversary at an Open House on May 4, 2023 @ 10:00 AM. Founded in 1948 by the late Charles L. Kerr, the company remains a family-run institution that is now managed by the third and fourth generations.  Registration is requested to be completed by April 20th.  A Registration form for the Kerr Lakeside for the event can be found at NCFAonline.com. For any additional questions, please email Charlie Kerr at CLKerr@kerrlakeside.com. Registration form: 
---
Women in the Fastener Industry honor the memory of Maryann Marzocchi, Co-Owner of Distributor's Link Magazine with a NEW scholarship. The $1,500 scholarship will be awarded to a woman to attend college or trade school. The recipient must have a female family member who is employed by a fastener company. WIFI is accepting applications now. The Application deadline is June 5, 2023. Apply Now!
---
Dirk Beveridge of UnleashWD has announced the first human resources event for distributors, designed to challenge traditional thinking on HR and help independent distributors win the war on talent. Registration is now open for the UnleashWD Human Resources Summit for distributors, April 27-28, 2023 in Nashville, Tenn.
Seating is limited for this event be sure to register today to reserve your seat. Learn more and Register now.
---
Have you tried buying fasteners online? Industrial products are comprehensive and purchasing them online can lead to poor customer experiences when utilizing filtered search, buyers are forced to use a multitude of search filters just to find a bolt. Product Genius's grid technology organizes and displays entire product categories from a one page buying experience. Experience the future of fastener buying online at 1-800-Fasteners.com.
Experience and Demo the FASTest Fastener buying at 1-800-Fasteners.com. 
PGT's services also include, data cleaning and preparation, consulting, and strategizing. Contact ProductGeniusTechnology.com or call 1-800-fasteners to find out how to get started today.
---
The stories featured in this week's episode of IN THE NEWS can be found at Fastener News Desk or in our Twitter feed @FastenerNews and on LinkedIn in the Fastener News Group!
---
If you would like to share your company's events, news or sponsor an upcoming episode of IN THE NEWS or would like to add to the Fastener Museum me: lisa@fastenernewsdesk.com.
---
Thanks for tuning in to this week's episode of IN THE NEWS with Fastener News Desk.

Until next week, be well, be safe and Keep it Fastenating!
---
RELATED CONTENT:
IN THE NEWS with Fastener News Desk the Week of April 3, 2023
IN THE NEWS with Fastener News Desk the Week of March 27, 2023
Fastener News
,
Fastener News Desk
,
Fastener News Podcast
,
Fastener TV
,
Fastener Training
,
Fastening
,
Human Resources
,
Industrial Distribution