Here's what's happening in fastener industry news and events the week of April 17, 2023.
Watch now on FastenerTV at YouTube (12:05)
---
The Fastenal Company (Nasdaq: FAST) distributor of industrial and construction supplies announced 2023 first quarter were $1.86 billion, up 9.1% from the prior-year period.  Fasteners sales were up 7%, safety supplies up 5.7%, other product lines were up 12.4% in the quarter. Profit for the quarter was $295.1 million, up 9.5% from the prior-year period. 
---
BlackHawk Industrial, a market-leading distributor of metalworking and other mission-critical industrial products, announced the acquisition of Stock'd Supply ("Stock'd") headquartered in Tennessee along with its seven other locations. Financial terms of the transaction were not disclosed. Founded in 1979, Stock'd Supply is a well-respected supplier of fasteners, technical threads, and other industrial products – distinguishing itself as a value-added technical service provider. The Stock'd Supply operation is an exceptional fit for BlackHawk, expanding its national footprint and increasing proximity to customers with a common product offering and strong focus on technical service.
---
Birmingham Fastener announced the opening of their newest branch, Phoenix Fastener. This is Birmingham Fastener's first location in the state of Arizona, expanding their footprint in the West after the recent acquisition of Pacific Coast Bolt. Yates Hudson, a 39-year fastener industry veteran, will lead the team in Phoenix as General Manager. He brings a wealth of experience and expertise to the role. Birmingham Fastener President and CEO, Brad Tinney said that "This strategic expansion is a testament to their team's unwavering commitment to excellence and world-class service. Read more:
---
Würth Partners with Dover Motor Speedway to Headline NASCAR Cup Series Race
One of the world's preeminent names in manufacturing and distribution is partnering with Dover Motor Speedway in a multi-year sponsorship of the Monster Mile's signature event of 2023.Würth 400 NASCAR Cup Series race on April 30 is the centerpiece of Dover Motor Speedway's NASCAR tripleheader weekend. Würth, the global leader in development, production, and sale of fastening and assembly materials, is a longtime partner of Team Penske in the NASCAR Cup Series and will be a proud sponsor of the No. 12 Ford driven by Ryan Blaney at the Monster Mile. The Würth 400 is the Monster Mile's 105th NASCAR Cup Series race and comes during NASCAR's 75th anniversary season. Check out wurthracing.com to learn more about the event.
---
NetPlus Industry Outlook: 77% of Distributor Members Expect to Grow in 2023
NetPlus Alliance distributor members remain optimistic about 2023 full-year revenue, despite signs the economy may be slowing, according to the NetPlus Alliance Industry Outlook, a quarterly report based on a survey of NetPlus members. The survey was completed in February 2023, and the outlook was based on fourth-quarter and full-year sales results for 2022. The report found that 64% of NetPlus Alliance distributor members saw significant growth in 2022. 77% of NetPlus Distributor Members surveyed expect to grow by more than 3% in 2023.
---
Fastener Fair USA is back and better than ever! The highly anticipated trade show is taking place at Music City Center in Nashville, TN from May 16-17, 2023, and it's not one to be missed. This year's event promises to be bigger and better than ever, with new exhibitors, industry-leading products, and a range of educational and networking opportunities.
Fastener Fair USA: The Must-Attend Event for the Fastener Industry
Fastener Fair USA is a unique opportunity for members of the entire fastener supply chain to connect, network, and learn about the latest trends, products, and technologies in the industry. The event features nearly 200 exhibitors showcasing a wide range of products and services, including fasteners, adhesives, assembly tools, and more. Use Fastener News Desk code FND for FREE registration. Go to FastenerFairUSA.com
---
Fastener News Desk wants to hear from you about our NEWS Series: 'FASTENATING' ! We'd love to learn about what's driving your fastener distributorship or fastener manufacturing company forward!
Share your fastener success story with us today!" In 500-700 words tell us what's happening at your business! Check out the details for story lines at the Fastener News Group on LinkedIn.
Your entry could be chosen for a FREE feature at Fastener News Desk which includes premium placement, link to your website, promo in the Fastener News communities, & feature in an upcoming newsletter.
Who's up next? Submit your entry to lisa@fastenernewsdesk.com
---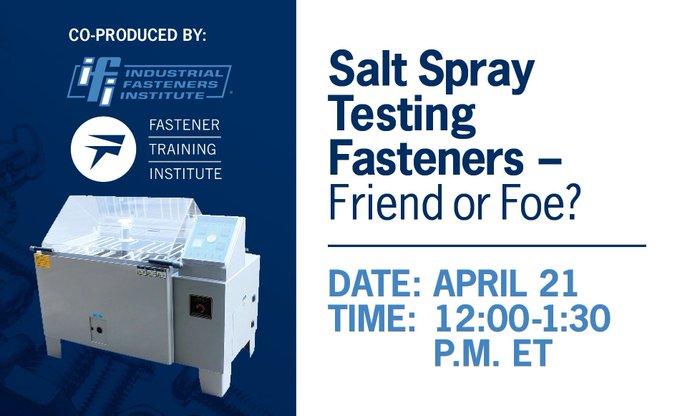 Upcoming Webinar Co-Produced by Industrial Fasteners Institute and Fastener Training Institute. Salt Spray Testing Fasteners – Friend or Foe? will take place on April 21st 12:00-1:30 p.m. ET. Learn about Salt Spray Testing terminology, the testing process, challenges, and limitations, and more! Register today at FastenerTraining.org
---
The Southeastern Fastener Association will hold their Annual Spring Conference April 24 – 26th in Miramar Beach, FL. SEFA invites members and fastener friends to attend the event in a great location. Attendees will enjoy a welcome reception, golf outing, cocktail hour, dinner, awards, and silent auction and much more! For more information about the event and to register go to thesefa.com
---
Registration is open for the Pacific West Fastener Association 2023 Spring Conference!  Join the Pac-West organization for 3 days of education, networking, and fun at the Scottsdale Resort at McCormick Ranch. Wednesday, April 26, 2023, through Saturday, April 29, 2023. Register Now: Pac-West.org
---
The North Coast Fastener Association announces the 14th Annual Distributor Social happening on Thursday, May 4th in Independence, OH from 5 – 8pm. The Distributor Social is the largest networking event for the fastener industry in Cleveland and surrounding areas.  The NCFA Distributor Social brings together many of the top distributors and supplier companies in the industry to network and socialize, while enjoying a few drinks, appetizers, and desserts. The event continues to draw hundreds of attendees each year because of the simplicity it offers.  The NCFA Distributor Social is just that, a time to be social with current/potential customers and industry friends, in a more casual setting than a traditional fastener shows. Register: NCFAOnline.com
---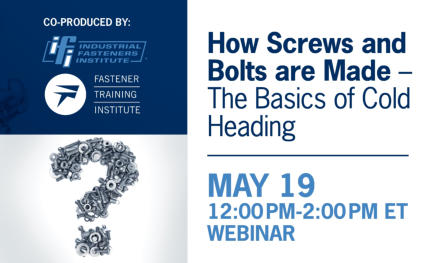 How Screws and Bolts are Made – The Basics of Cold Heading an upcoming webinar Co-Produced by Fastener Training Institute and the Industrial Fasteners Institute will take place on Friday, May 19th from 12:00 p.m. to 2:00 p.m. ET. Whether you are new to the fastener industry or a seasoned veteran, have you ever wanted to know more about how threaded fasteners are made? Although there are different methods that can be employed, the most common way of forming a fastener is by cold heading. This webinar will introduce participants to a high-level overview of cold heading, its advantages, the cold heading machine process, machine types as well as descriptions and the tooling necessary to make it all happen. For Registration go to FastenerTraining.org
---
Dirk Beveridge of UnleashWD has announced the first human resources event for distributors, designed to challenge traditional thinking on HR and help independent distributors win the war on talent. Registration is now open for the UnleashWD Human Resources Summit for distributors, April 27-28, 2023, in Nashville, Tenn. Seating is limited for this event be sure to register today to reserve your seat. To Learn more or register at https://events.unleashwd.com/HRSummit
---
Have you tried buying fasteners online? Industrial products are comprehensive and purchasing them online can lead to poor customer experiences when utilizing filtered search, buyers are forced to use a multitude of search filters just to find a bolt. Product Genius's grid technology organizes and displays entire product categories from a one page buying experience. Experience the future of fastener buying online at 1-800-Fasteners.com.
Experience and Demo the FASTest Fastener buying at 1-800-Fasteners.com. 
PGT's services also include, data cleaning and preparation, consulting, and strategizing. Contact ProductGeniusTechnology.com or call 1-800-fasteners to find out how to get started today.
---
The stories featured in this week's episode of IN THE NEWS can be found at Fastener News Desk or in our Twitter feed @FastenerNews and on LinkedIn in the Fastener News Group!
---
If you would like to share your company's events, news or sponsor an upcoming episode of IN THE NEWS or would like to add to the Fastener Museum me: lisa@fastenernewsdesk.com.
---
RELATED CONTENT:
IN THE NEWS with Fastener News Desk the Week of April 10, 2023
IN THE NEWS with Fastener News Desk the Week of April 3, 2023
Fastener News
,
Fastener News Desk
,
Fastener News Podcast
,
Fastener TV
,
Fastener Training
,
Industrial Distribution