Here's what's happening in fastener industry news, acquisitions, association events, and scholarship opportunities the week of May 1, 2023.
Watch now on FastenerTV: 
---
AFC Industries has acquired Arlington Texas based QFC Industries. Terms of the deal were not disclosed. Founded in 1973 as Quickway Fastener Company, Inc. and later rebranded as QFC, the company is a distributor of fasteners and other small components to a diverse group of manufacturing and assembly customers in the United States, Mexico, Europe and China. Headquartered in Fairfield OH, AFC Industries is a dynamic organization dedicated to providing supply chain management solutions for fasteners, tooling, and assembly components to original equipment manufacturers, assembly plants, and other users of these products. In 2021, AFC was acquired by private equity firm Bertram Capital.
---
NASA has demonstrated a breakthrough in 3D printable high-temperature materials that could lead to stronger, more durable parts for airplanes and spacecraft. A team of innovators from NASA and The Ohio State University detailed the characteristics of the new alloy, GRX-810, in a peer-reviewed paper published in the journal Nature. "This superalloy has the potential to dramatically improve the strength and toughness of components and parts used in aviation and space exploration," said Dr. Tim Smith of NASA's Glenn Research Center in Cleveland.
---
Congratulations go out to TR Fastenings as they celebrated their 50th Anniversary at the recent Fastener Fair Global. TR Fastenings (TR) is part of Trifast and is an international specialist in the design, engineering, manufacture and distribution of industrial fastenings and Category 'C' components principally to major global assembly industries. Wishing them all the best for the next 50 years! 
---
The North Coast Fastener Association's 14th Annual Distributor Social is happening this Thursday, May 4th in Independence, OH from 5 – 8pm. The Distributor Social is the largest networking event for the fastener industry in Cleveland and surrounding areas.  The NCFA Distributor Social brings together many of the top distributors and supplier companies in the industry to network and socialize, while enjoying a few drinks, appetizers, and desserts. The event continues to draw hundreds of attendees each year because of the simplicity it offers.  The NCFA Distributor Social is just that, a time to be social with current/potential customers and industry friends, in a more casual setting than a traditional fastener shows. Register Now: NCFAOnline.com
---
The NFDA + Young Fastener Professional Associations will be hosting a Virtual Roundtable:  The Triple Bottom Line: People, Planet, and Profit on Thursday, May 11th at 2:00 PM Eastern. Rethink the way you measure success with a discussion on the triple-bottom-line sustainability framework: what it is, why it is important, and how you can implement it. It's free to attend, but registration is required. Go to https://bit.ly/3NoF6de
---
Fastener Fair USA is back and better than ever! The highly anticipated trade show is taking place at Music City Center in Nashville, TN from May 16-17, 2023, and it's not one to be missed. This year's event promises to be bigger and better than ever, with new exhibitors, industry-leading products, and a range of educational and networking opportunities.
Fastener Fair USA is a unique opportunity for members of the entire fastener supply chain to connect, network, and learn about the latest trends, products, and technologies in the industry. The event features nearly 200 exhibitors showcasing a wide range of products and services, including fasteners, adhesives, assembly tools, and more. Use Fastener News Desk code FND for FREE registration. Go to FastenerFairUSA.com
---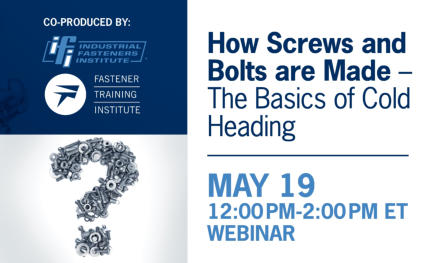 How Screws and Bolts are Made – The Basics of Cold Heading an upcoming webinar Co-Produced by Fastener Training Institute and the Industrial Fasteners Institute will take place on Friday, May 19th from 12:00 p.m. to 2:00 p.m. ET. Whether you are new to the fastener industry or a seasoned veteran, have you ever wanted to know more about how threaded fasteners are made? Although there are different methods that can be employed, the most common way of forming a fastener is by cold heading. This webinar will introduce participants to a high-level overview of cold heading, its advantages, the cold heading machine process, machine types as well as descriptions and the tooling necessary to make it all happen. For Registration go to FastenerTraining.org
---
BTM Manufacturing, Domestic Fastener Manufacturer is partnering with Issco, Inc, Twin Lakes Insurance, and Wachter Inc for an upcoming event to help support the good work of the Sleep in Heavenly Peace Organization. Help Jake and his team build 100-beds on June 10th. There is a couple of ways to get involved. Volunteer To Help Build or Donate funds. The cost of this project is $25,000.  Donated funds will provide the necessary lumber and hardware to build and assemble the beds as well as provide the mattresses, pillows, and bedding to make them complete. Every child deserves a warm, soft, and safe place to sleep at night and with your help we can see that NO KID SLEEPS ON THE FLOOR IN ANY TOWN!
Donate: https://interland3.donorperfect.net/weblink/weblink.aspx?name=E345976&id=546
Help Build Beds: https://signupgenius.com
Together we make sure that every child has a bed to sleep in.
---
To learn more about our NEWS SERIES: FASTENATING a limited time offer 'Celebrating Your Success Go to the Fastener News Group at LinkedIn. Your entry could be chosen for a FREE feature at Fastener News Desk which includes premium placement, link to your website, promo in the Fastener News communities, feature in an upcoming newsletter and 'IN THE NEWS Podcast' Entries may be submitted to lisa@fastenernewsdesk.com
---
Fastener industry associations have many great scholarship opportunities: 
The Metropolitan Fastener Distributors Association is accepting applications for their 2023 scholarship. The MFDA is dedicated to representing all segments of the fastener industry. Scholarship applications must be received no later than May 15th, 2023. Application can be found at MFDA.us
---
The Northcoast Fastener Association is fueling the knowledge of the fastener industry with their 2023 Scholarship. The NCFA will be giving away up to $5,000 in scholarships this year! The NCFA Scholarship Application is now available. Applications must be postmarked by 5/31/23 to be considered.  Award winners will be notified in July 2023. Apply now: NCFA Scholarship Application
---
Applications are being accepted for the Gilchrist Foundation Fastener Scholarship. Those who receive awards are expected, upon completion of their schooling, to make an earnest effort to work in the fastener industry or to pursue employment in an fastener industry trade association member company.
Unlike many other scholarships, applications are accepted during any year of a person's schooling. Also, an applicant may be a part-time student currently working in the fastener industry. Applications are due by May 31st. Go to GilchristFoundation.com to apply today! 
---
Women in the Fastener Industry organization is celebrating the life of fastener industry pioneer, Maryann Marzocchi co-Founder of Link Magazine $1,500 scholarship that will be awarded to a woman to attend college or trade school. The recipient must have a female family member who is employed by a fastener company. Application Deadline: June 5, 2023 APPLY NOW: https://www.fastenerwomen.com/scholarships
---
The Pacific-West Fastener Association is offering a scholarship for Fastener Training Week produced by the Fastener Training Institute® which is valued at $2,800.  Only employees of Pac-West member companies are eligible. The scholarship is for tuition only for any Fastener Training Week in 2023 or 2024, and does not include expenses for travel, lodging, or meals. Fastener Training Week is a robust program that includes five days of education and plant tours as part of the acclaimed FTI Certified Fastener Specialist™ (CFS) advanced technical training program. After completing this invaluable industry training in a small group environment and passing a final exam, attendees are then eligible for the CFS designation.
To access the application form or request a copy by email. Contact:  amy@pac-west.org. Applications must be submitted by June 30. 
---
Have you tried buying fasteners online? Industrial products are comprehensive and purchasing them online can lead to poor customer experiences when utilizing filtered search, buyers are forced to use a multitude of search filters just to find a bolt. Product Genius's grid technology organizes and displays entire product categories from a one page buying experience. Experience the future of fastener buying online at 1-800-Fasteners.com.
Experience and Demo the FASTest Fastener buying at 1-800-Fasteners.com. 
PGT's services also include, data cleaning and preparation, consulting, and strategizing. Contact ProductGeniusTechnology.com or call 1-800-fasteners to find out how to get started today.
---
The stories featured in this week's episode of IN THE NEWS can be found at Fastener News Desk or in our Twitter feed @FastenerNews and on LinkedIn in the Fastener News Group!
---
If you would like to share your company's events, news or sponsor an upcoming episode of IN THE NEWS or would like to add to the Fastener Museum me: lisa@fastenernewsdesk.com.
---
RELATED CONTENT:
IN THE NEWS with Fastener News Desk the Week of April 24, 2023
IN THE NEWS with Fastener News Desk the Week of April 17, 2023
Fastener Acquisitions
,
Fastener Association
,
Fastener Event
,
Fastener News
,
Fastener News Desk
,
Fastener News Podcast