Here's what's happening in fastener industry news the week of May 8, 2023.
 Watch now on FastenerTV (11:34)
---
AFC Industries has acquired EAP International Limited, a leading distributor of rubber sealing products, including O-rings, gaskets, and associated technical products, based in Greater Manchester, UK. Terms of the deal were not disclosed.
---
Fastenal Company industrial fasteners, construction and safety supply distributor reported April 2023 sales of $586 million, up 2.7% year-over-year, with daily sales up 7.8%. Daily sales of fasteners were flat growing at 1.2% year-over-year compared to 25.5% in 2022. Daily sales of safety products grew 10.1% & all other products grew 12.1% year-over-year. Read full release: 
---
'INTHE NEWS' Sponsor:
Next generation advanced planning and scheduling is here! Optessa's AI-driven optimization ushers in a new way for manufacturers to generate optimal plans and schedules in a fraction of the time.
Respond to disruptions
Meet delivery dates
Reduce excessive parts inventory
Eliminate costly idle time
Stabilize your supply chain
Request a live demo of Optessa's NextGen APS platform today!
Visit https://www.optessa.com/ for more information! 
---
The Würth Group reports for fiscal year 2022. With double-digit sales growth, is once again on a record course. ⬆ Sales volume increases to 19.9 billion EUROS corresponding to a 16.8% increase year-over-year. Robert Friedmann, Chairman of the Central Management Board of the Würth Group said "In the past two years, we generated sales growth of more than EUR 5.5 billion. This is a remarkable achievement in our more than 75 years of corporate history, considering the multitude of imponderables that have challenged us since the start of the COVID-19 pandemic in 2020 and with the war in Ukraine. In times like these, our customers especially appreciate that they can rely on our delivery capability and service leadership,"
---
ZAGO Manufacturing –U.S.-based manufacturer of sustainable sealing fasteners and components, has been recognized by NIST (National Institute of Standards and Technology) and MEP (Manufacturing Extension Partnership) as one of its Heroes of American Manufacturing. ZAGO Manufacturing Co. is one of three manufacturers in the U.S. to be recognized. Visit https://zago.com/ today!
NIST MEP Recognizes ZAGO Manufacturing as Hero of American Manufacturing
---
Economic activity in the manufacturing sector contracted in April for the sixth consecutive month following a 28-month period of growth, say the nation's supply executives in the latest Manufacturing ISM® Report On Business®. "The April Manufacturing PMI® registered 47.1 percent, a0.8 percentage point higher than the 46.3 percent recorded in March. Regarding the overall economy, this figure indicates a fifth month of contraction after a 30-month period of expansion. The New Orders Index remained in contraction territory at 45.7 percent, 1.4 percentage points higher than the figure of 44.3 percent recorded in March. The U.S. manufacturing sector contracted again; however, the Manufacturing PMI® improved compared to the previous month, indicating slower contraction. 
Manufacturing PMI® at 47.1%; April 2023 Manufacturing ISM® Report On Business®
---
Coming up this week The NFDA + Young Fastener Professional Associations will be hosting a Virtual Roundtable:  The Triple Bottom Line: People, Planet, and Profit. The virtual roundtable will take place on Thursday, May 11th at 2:00 PM Eastern. Rethink the way you measure success with a discussion on the triple-bottom-line sustainability framework: what it is, why it is important, and how you can implement it. It's free to attend, but registration is required. Go to https://bit.ly/3NoF6de
---

Fastener Fair USA is just 1 week away, taking place May 16-17, 2023 at Music City Center in Nashville!.. This year's event promises to be bigger and better than ever, with new exhibitors, industry-leading products, and a range of educational and networking opportunities. The event features the pre-show conference provided by the Fastener Training Institute: Fastening 101 May 15 and the Fastener Fair USA Golf Tournament sponsored by MWFA and NCFA (May 15 at 1:00pm). The opening night networking party is at the Country Music Hall of Fame May 16 at 5:30 PM. Register for Fastener Fair USA today and get ready to grow business! Use discount code FND for a FREE exhibit hall pass. The FREE offer expires Friday, May 12th. Register Now: https://bit.ly/42dAWcC
Fastener Fair USA: The Must-Attend Event for the Fastener Industry
---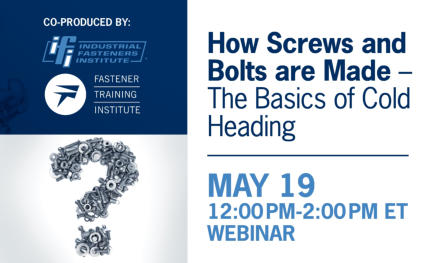 How Screws and Bolts are Made – The Basics of Cold Heading an upcoming webinar Co-Produced by Fastener Training Institute and the Industrial Fasteners Institute will take place on Friday, May 19th from 12:00 p.m. to 2:00 p.m. ET. Whether you are new to the fastener industry or a seasoned veteran, have you ever wanted to know more about how threaded fasteners are made? Although there are different methods that can be employed, the most common way of forming a fastener is by cold heading. This webinar will introduce participants to a high-level overview of cold heading, its advantages, the cold heading machine process, machine types as well as descriptions and the tooling necessary to make it all happen. Register: https://fastenertrainingevents.com/how-screws-are-made.htm
---
The Midwest Fastener Association is offering an intermediate training session Essentials of Metallurgy  on May 24, 2023 which will includes training in various areas by industry experts. Anyone selling or purchasing fasteners should have a comprehensive knowledge of Metallurgy, Heat Treating and Plating. The hands-on training will be taught at both SWD, Inc. and Morgan O'Hare. Go to https://mwfa.net/ to register for class.
---
MWFA will host their Screwed Up 2023 Open on May 25th at the White Pines Golf Club in Bensenville, IL. Join the MWFA for some in person networking and practice your golf before their official golf outing scheduled in August. Don't miss the fun! Go to https://mwfa.net/ for registration. Attendees can Join the MWFA for their second "Quarterly" Nuts & Brews after the Screwed Up Open at Church Street Brewing Co.
---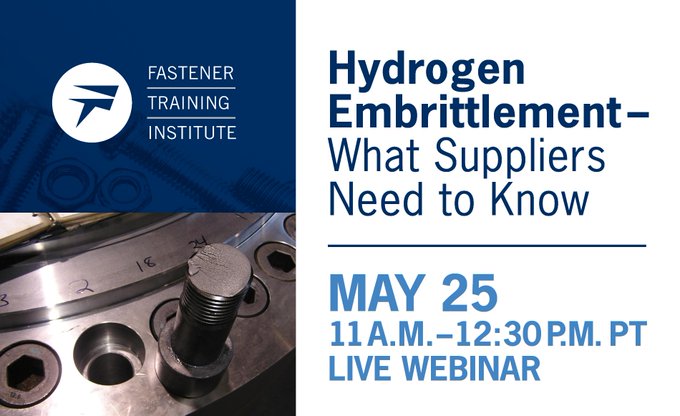 The Fastener Training Institute is offering online training in their upcoming Webinar: Hydrogen Embrittlement – What Suppliers Need to Know. The class will take place on Thursday, May 25, 2023 11:00 a.m. – 12:30 p.m. PT The Webinar Instructor is Carmen Vertullo of Carver labs, Fastener Consultant and Trainer. There is no quality assurance problem that gets suppliers in more trouble than Hydrogen Embrittlement (HE). This could easily be the most important 90 minutes of training your company EVER engages in. It does not matter if you process fasteners that are HE susceptible or not, you probably sell them or handle them somewhere in the supply chain. It is critical that you have a good understanding of Hydrogen Embrittlement, its causes, its effects and how to prevent and detect it. Register at https://fastenertrainingevents.com/hydrogen-embrittlement.htm
---
To learn more about our NEWS SERIES: FASTENATING a limited time offer 'Celebrating Your Success Go to the Fastener News Group at LinkedIn. Your entry could be chosen for a FREE feature at Fastener News Desk which includes premium placement, link to your website, promo in the Fastener News communities, feature in an upcoming newsletter and 'IN THE NEWS Podcast' Entries may be submitted to lisa@fastenernewsdesk.com
---
BTM Manufacturing, Domestic Fastener Manufacturer is partnering with Issco, Inc, Twin Lakes Insurance, and Wachter Inc for an upcoming event to help support the good work of the Sleep in Heavenly Peace Organization. Help Jake and his team build 100-beds on June 10th. There is a couple of ways to get involved. Volunteer To Help Build or Donate funds. The cost of this project is $25,000.  Donated funds will provide the necessary lumber and hardware to build and assemble the beds as well as provide the mattresses, pillows, and bedding to make them complete. Every child deserves a warm, soft, and safe place to sleep at night and with your help we can see that NO KID SLEEPS ON THE FLOOR IN ANY TOWN! For more info on how you can help go to @BTMmfg on twitter. Together we make sure that every child has a bed to sleep in.
Donate: https://interland3.donorperfect.net/weblink/weblink.aspx?name=E345976&id=546…
Help Build Beds: https://signupgenius.com
---
The stories featured in this week's episode of IN THE NEWS can be found at Fastener News Desk or in our Twitter feed @FastenerNews and on LinkedIn in the Fastener News Group!
---
If you would like to share your company's events, news or sponsor an upcoming episode of IN THE NEWS or would like to add to the Fastener Museum me: lisa@fastenernewsdesk.com.
---
RELATED CONTENT:
IN THE NEWS with Fastener News Desk the Week of April 24, 2023
IN THE NEWS with Fastener News Desk the Week of April 17, 2023
Distribution
,
Fastener Acquisitions
,
Fastener News
,
Fastener News Desk
,
Fastener News Podcast
,
Fastener TV