President Trump's US growth agenda places modernizing and expanding the nation's infrastructure as a priority to advance on numerous fronts—including jobs creation and faster economic growth. In an address to Congress, Trump highlighted his administration's plans to launch a $1 trillion investment in the nation's infrastructure financed through both public and private capital.
US industrial companies will  want to understand how new spending can impact industrial employment and productivity and accelerate the adoption of advanced manufacturing technologies (e.g., robotics, 3D printing, artificial intelligence and the Internet of Things) to further shape a more connected and more productive industrial base.
Furthermore, likely beneficiaries of the stimulus, particularly engineering and construction firms and steel and heavy machinery producers, will also need to make early preparations for operational and workforce expansion in order to manage increased demand as it may unfold.
A looming national infrastructure investment backlog
The US is a massive spender on infrastructure but, according to perceptions of business leaders globally, core US infrastructures are not first-in-class.
In the latest World Economic Forum's annual Global Competitive Index, a global ranking of the quality of the business environment, US infrastructure lags other economies across several categories including quality of roads and ninth in air transport—areas the Trump administration has called out for more investment.
More can be done. Since 1980, public spending in transportation and water infrastructure, as a percentage of GDP, has held at around 2.5% compared to its 1959 peak of 3%. The trend is hard to dislodge; the 2009 stimulus spending package delivered a slight uptick in the 2009-2011 period.
Infrastructure finding gaps
As public spending as a percentage of GDP stabilized but did not grow, gaps formed. The American Society of Civil Engineers (ASCE) estimates $3.3 trillion of investment is needed to maintain, repair and build new infrastructure through 2025, and sees a funding gap of $1.4 trillion to meet those needs. ASCE expects the gap to widen if current public and private investment trends continue unchanged, and further estimate that the economic impact of not filling the gap will sideline a potential $3.9 trillion GDP boost and 2.5 million jobs.
A boost for public-private partnerships in the US?
The time may be ripe for further public-private partnership (3P) growth in the US, as many municipalities and state budgets are stretched. With little shortage of eager capital on the sidelines, attracting private investors would likely mean placing emphasis on selecting those infrastructure projects that are high-quality and most bankable. By mid- 2016, infrastructure funds focusing on North American assets were sitting on $75 billion in dry powder. 3P activity in the US, for a number of reasons, have lagged relative to other countries, such as the UK.
Companies in sectors which look to benefit from increased infrastructure development, either directly or indirectly, ought to shape strategies that would best position them to capture those benefits. For example, companies in sectors such as steel, industrial manufacturing and engineering and construction could begin to coordinate, as potential vendors, with state and local governments which are in the process of selecting and proposing infrastructure projects that eventually could attract private funding. Indeed, some larger concerns could look beyond their role as prospective vendors, and even explore the merits of becoming investors in infrastructure projects.
What can industrial products companies do now?
As states and the federal government finalize their selection of infrastructure projects, industrial products and services companies, (e.g., steel, engineering and construction, industrial manufacturing, heavy machinery) can begin positioning themselves as vendors for—and even as planners of—projects.
Additionally, companies that are likely beneficiaries–for example engineering and construction and steel producers–ought to prepare for scale-ups in operational capacity and employee base in order to manage increased demand.
Larger industrial products companies with investment arms, most notably in the engineering and construction sector, may consider expanding their roles as investors in infrastructure projects, through public-private partnerships.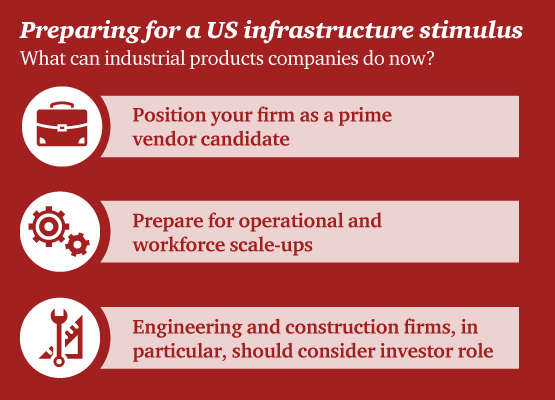 Related Links:
What a US Infrastructure Stimulus Could Mean for the Industrial Sector
Construction
,
News