Did You Know: 70% of United States exports go to Canada? 
NAFTA/US Relations
The North American Free Trade Agreement (NAFTA) is an agreement between Canada, the United States, and Mexico. Under the treaty, these three countries have agreed to remove their trade barriers. With the goal of making these countries more competitive globally, NAFTA's members contribute more than $20 trillion as measured by BEA.gov. Currently NAFTA is the world's largest free trade agreement. NAFTA has come under scrutiny and will have several revisions. 
Whether you're already exporting to Canada or not, it's definitely a market you want to consider. If you are, there are a lot of important points to remember under NAFTA. 
Youngstown State University recently hosted a seminar on the United States, NAFTA, and Canada featuring Dan Ujczo, counsel and cross-border business development director, and Suzanne Sukkar, counsel, both from the law firm Dickinson Wright, PLLC. 
Below are some important facts and tips Ujczo and Sukkar offered about NAFTA and United States/Canada relations:
Facts
NAFTA has created a marketplace for businesses to see around the world. Companies who successfully navigate US/Canada or US/Mexico grow much faster than other companies.
Canada is the US's largest trading partner.
Canada and EU trade agreement,

CETA

, strengthens trade between Canada and European Union.
United States trade partnership with EU known as T-TIP has been put on hold due to Brexit.
Detroit-Windsor is the largest land commercial border crossing in the world. (3rd largest is Buffalo/Niagara)
Canada in 32 out of the 50 states at the moment is the #1 export location.
Anywhere between 85-95% of Canadian citizens live within 100-200 miles of Canada/US border.
1/3 Canada/US trade operations across border is done within the same company.
Average vehicle crosses the border 8-12 times during assembly process.
Trade in NAFTA region has increased 600% since it was created.
TPP wasn't about trade, it was about establishing economic relationships around the globe. It was made to work against China who seeks cheap parts and is attempting to buy companies and supplies from around the world. 
There was a dip in trade before 9/11/2001 and that is because NAFTA was already full implemented and needed fixed.
Ranked the best place in the world to do business. Also most favorable corporate tax.
$1.4 million per minute crosses the border.
Tips
Don't deploy the same business plan in all Canadian cities: Think about deploying the same business plan in Cleveland as well as Los Angeles. It wouldn't work!
Canada is not international, but also not it's domestic: We are similar, yet not the same. For example, the regulators of Canadian trade are the provinces, not the federal government. 
Know bureaucrats: When you conduct business they will be there to facilitate and make sure you are in compliance. Make sure you are familiar with them.
Remember that Canada is dual language: Consider hiring someone who speaks French in order to conduct business. 
Protect Intellectual Property: What you protect in the US, you must also protect there. Get your copyrights and trade marks. Renewal has gone 15 years down to 10 years. 
Distributors must have salespeople under contract: Put it all on paper and abide by Canadian employment rules. 
Quote price in domestic currency: Makes it easier on customer. 
Not For Resale into Cuba: Canada's rules our different than the US for Cuba. Explicitly state your product is not for resale into Cuba. 
The "3 Headed Monster": You need an accountant, a lawyer, and a banker when selling into a foreign market. Especially ones who are familiar with foreign relations.
Canadian Tax: Take care of tax issues. There's federal and provincial tax so file tax returns.
Include HST and GST: Not doing so is violation of Canadian tax law. Provinces and federal government includes these taxes. 
Taxing individuals: You can be taxed individually depending on how long you're going up there. If you're performing work, if it's more than $10,000 and up there less than 183 days. 
183 Day Rule: You can't be in Canada over 183 days over 3 years. Preferably watch to not exceed 120 days in a 3 year period. 
Use UPS, FedEx, or DHL when shipping into Canada: And acquire a customs broker. 
Canada's anti-spam legislation: In order to get a message, Canadians must opt-in. Applies to commercially electronically submitted messages. Limited ways to find a consumer or potential sales target and contact them. They will start to come after companies who are in violation starting in July. 
Non-resident importer program: Making the transaction resemble a Canadian domestic transaction. Best suited for U.S. companies selling direct to Canadian consumers, retailers and businesses.
Borders looking into mobile and online: Border patrol is asking for passwords to phones and other information. 
To confirm your story when crossing, carry confirmation: Carry an invitation letter from customer when crossing the border. Carry pay stubs, business cards with a US address, or tickets from expo you will be attending. 
Notify the government if hiring a foreign worker: Government must know if you are hiring anyone from Canada.
*Buy America*: Buy American legislation is coming about and influencing procurement projects. A hospital in Youngstown encounter the Buy American issue. It was going to renovate its boilers and a company won US federal money to install them, but because of the supply chain and level of integration with Canadian components, they were going to lose the bid. Furthermore, a military base ripped up a whole drainage system because the fasteners were Canadian made. This costed them $30 million!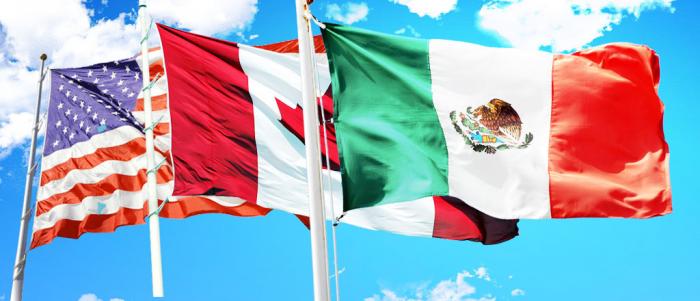 Learn more: North American Free Trade Agreement (NAFTA)
Related Stories: 
NAFTA Definition: North American Free Trade Agreement
Facts About NAFTA: Statistics and Accomplishments
Featured
,
Manufacturing
,
The Fastener Museum