Here's what's happening in fastener industry news, acquisitions, and upcoming events the week of November 6, 2023.
Watch now on FastenerTV at YouTube (6:52)
---
Endries International announced the acquisition of the Viscan Group. Founded in 1992 and headquartered in Joliette, Quebec, Viscan is a leading supplier of specialized screws, general fasteners, and related components. Viscan offers over 25,000 unique SKUs, including proprietary components, and provides a variety of value-add services, including vendor managed inventory solutions as well as custom transformation or "secondary" process operations such as kitting, painting, platin), which are all performed in-house. Read more:
---
Economic activity in the manufacturing sector contracted in October for the 12th consecutive month following a 28-month period of growth, say the nation's supply executives in the latest Manufacturing ISM® Report On Business®. The Manufacturing PMI® registered 46.7 percent in October, 2.3 percentage points lower than the 49 percent recorded in September. The overall economy dropped back into contraction after one month of weak expansion preceded by nine months of contraction and a 30-month period of expansion before that. The New Orders Index remained in contraction territory at 45.5 percent, 3.7 percentage points lower than the figure of 49.2 percent recorded in September. Read more: 
Manufacturing PMI® at 46.7%; October 2023 Manufacturing ISM® Report On Business®
---
The 2023 Specialty Tools & Fasteners Dist. Association. (STAFDA) kicked off their annual convention which runs through Tuesday the 7th in San Antonio, TX! This year's event features an Emerging Leaders Forum, Opening Party, Mike Holmes keynote, Trade Show and much more! Check out the full agenda at STAFDA.org
---
Next generation advanced planning and scheduling is here! Optessa's AI-driven optimization ushers in a new way for manufacturers to generate optimal plans and schedules in a fraction of the time. Respond to disruptions, meet delivery dates, reduce excessive parts inventory, eliminate costly idle time, and stabilize your supply chain. Request a live demo of Optessa's NextGen APS platform today!  Visit https://www.optessa.com/
---
 Grow from novice to knowledgeable with Fastener Training Institutes Fastener Basics training. Learn the basics of fastener parts and increase your fastener knowledge advantage! The all-day training session is geared for individuals new to the fastener industry and those who need to know more about the products they sell. Fastener Basics Training is scheduled for:
Date: Thursday, November 16, 2023
Time: 8:30am to 4:00pm
Location: Union City, CA
Instructors: Kevin Chavis, Regional Manager, Star Stainless David Palmquist, Sales, Desert Distribution
Register: https://fastenertrainingevents.com/fastener-basics.htm
---
Join Pac-West for their After Hours get together in Newark, CA November 16, 2023, from 5:00 – 8:00 pm at BJ's Restaurant and Brewhouse. Stop by and meet other people in the fastener industry and expand your professional network. Register: https://www.pac-west.org/
---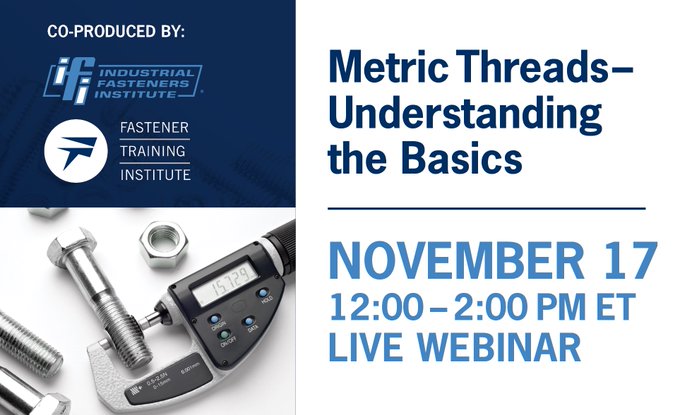 Join the Fastener Training Institute and the Industrial Fasteners Institute for a LIVE WEBINAR: Metric Threads – Understanding the Basics, Friday, November 17, 2023, from 12:00 p.m. -2:00 p.m. ET Instructor: Laurence Claus, IFI Director of Education and Training. Register now: https://fastenertrainingevents.com/metric-threads.htm
---

NFDA Virtual Panel Program | Using the Power of AI and Automation to Make Your Business More Efficient, Thursday, November 30, 2023, 11:00 AM Pacific / 2:00 PM Eastern Registration is required. https://www.nfda-fastener.org/
---
 Fastener Training Week will be held in Los Angeles, CA. December 4 – December 8, 2023, The Fastener Training Institute, and the Industrial Fasteners Institute (IFI) continue their partnership to present Fastener Training Week – five intensive days of education and plant tours as part of the acclaimed FTI Certified Fastener Specialist™ (CFS) advanced technical training program. After completing this invaluable industry training in a small group environment and passing a final exam, attendees are eligible for the CFS designation. Fastener Training Week in Los Angeles, CA is hosted by the Pacific-West Fastener Association. Register now: https://fastenertrainingevents.com/los-angeles-2023.htm
---
Fastener News Desk is not just about the latest fastener news. We're about transformative insights, actionable trends, and the big shifts shaping the industrial fastener sector.
The stories featured in this week's episode of IN THE NEWS can be found in our (X) feed @FastenerNews and on LinkedIn in the Fastener News Group!
If you would like to share your company's news or events contact me, lisa@fastenernewsdesk.com.  Thanks for tuning in to this week's episode of 'IN THE NEWS' with Fastener News Desk.
Sign up for the free FND newsletter designed to keep busy fastener professionals like you up-to-speed on "All things FASTENATING"!
---
RELATED CONTENT:
IN THE NEWS with Fastener News Desk the Week of October 30, 2023
Fastener News Desk Celebrates the 'Best Booth Award' Winners from IFE 2023
Fastener Industry
,
Fastener News
,
Fastener News Desk
,
Fastener News Podcast
,
Fastener TV