Another Fastener Show in the books. We heard that this year was the 37th annual show for fastener manufacturers and distributors. We returned to the Mandalay Bay Resort and Convention Center in Las Vegas, on September 17-19th.
This year the event was a month earlier. Many arrived early for set up and training programs. The party got underway as soon as we arrived in Vegas! After checking in at Mandalay Bay we hustled down to the IFE registration at the convention center, which was a LONG haul! Access to the Welcome Party required your show badge, so we were off on lap number one. The weather for the Welcome Reception at the Daylight Pool was perfect. Hundreds of fastener folks enjoying the atmosphere, catching up and reminiscing with friends. It was well appreciated after a day of traveling for some, the new annual IFE golf outing, and fastener training programs. 
The Fastener Show had a special early opening on Wednesday morning for the Machinery and Tooling section complete with freshly brewed organic coffee and Krispy Kreme donuts. It was a nice addition and we enjoyed mingling with new friends for some early morning brew.
When the show floor opened it was a mad dash for attendees to see their favorite vendors. The booths were all decked out, and networking quickly got underway. We had a great time on the show floor, it's great seeing the many ways companies are interacting with attendees and clients. Taking booth photos is always a hoot, we appreciate the participation and smiling faces that make our NEW  Photo Gallery from the International Fastener Expo possible.
Just a teaser…Best Booth Awards will be announced soon.
There were plenty of liquid refreshments on the show floor.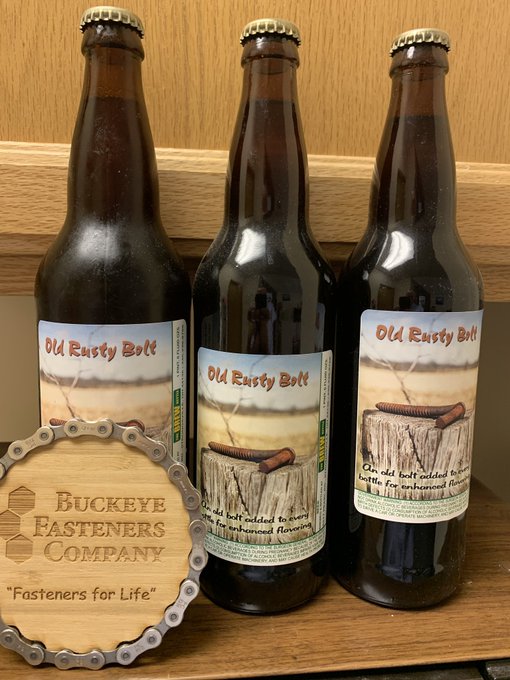 U-Bolt Blend Coffee, Old Rusty Bolt Beer or if you preferred a bit of Bubbly, it was flowing at the WIFI booth or the bar at Beacon Fasteners booth celebrating their 40th year! 
After all that liquid we were glad for the many restrooms! Where we once again spotted some of the smartest ad placement by an exhibiting fastener company at the show from Alloy & Stainless Fasteners, Inc..
There is never a dull moment from the time rubber meets the runway at the McCarran Airport in Vegas and the duration of the show! Many companies and associations hold meetings, private parties and networking events throughout the show dates. We always enjoy the generosity of companies such as Kanebridge for their luncheon and Brighton Best for the cocktail hour which are always a treat after working it on the show floor all day. These events allow us to sit with industry friends and veterans to talk about old times and the many ways distribution and manufacturing are changing today. 
Session's corner was buzzing with the announcement of the FCH Sourcing Network and Fastener Training Institute Scholarship Award winner, and the Hall of Fame Awards and Young Fastener Professional of the Year Award ceremony.
There were several free educational programs of interest such as tariffs, analytics, automotive and aerospace fasteners and transforming into a digitally driven distribution business. The speakers shared their experience and expertise with those in attendance. These programs hit on issues affecting our industry today, so it's too bad they are not well attended. Programs are usually 30 minutes and can easily fit into your schedule. Let's work on that for next year.
The show is a hustle, but in a good way. We're left feeling so proud to be part of such a great industry. To share and continue the legacy many of us have been handed from past generations. So for a few days it seems like we're always running off to somewhere, but these memories we make and hold dear are worth it all.  Thank you to all of our Fastener Family and Friends!
Just asking for a friend…anyone count how many steps they took during the event? They'd love to know.
Of course, we closed the show down with a cold one at the Beer Garden. 
Enjoy the photos and see you next year!
Click on any image to enlarge and browse entire gallery.
Fastener Expo
,
Fastener Hall of Fame
,
Fastener Show
,
Fasteners
,
News