January 26, 2022
Fabory is proud to announce that it has reached an agreement to acquire the fastener division of Importinox. The acquisition further strengthens Fabory's position as fastener specialist in Portugal and the broader Iberia region. The strong strategic fit between both companies enables a stronger and more relevant proposition, building further on the deep and relevant range of specialist fasteners, quality & engineering and differentiating supply chain solutions.
Francisco Terol, CEO Fabory comments: "We are proud to welcome the Importinox fastener specialists to Fabory. We are highly impressed by Importinox's longstanding client relationships and solid value adding services. Finalizing this deal will make Fabory the market leader in the Portuguese fasteners market and we are looking to further build our positioning across Iberia."

"Fabory is well positioned to further grow the fasteners division starting from our solid base of over 1,000 accounts in amongst others mechanical engineering and construction market. Our market focus is highly accretive and we are convinced that joining forces will open up many new opportunities" adds Joaquim Polónia, General Manager Importinox.
About Importinox
Importinox was founded by Antonio Cerejeira in Maia, in the North of Portugal, in 1988. Current co-owner and General Manager Joaquim Polónia has developed the business which has a dual specialism in fasteners and perforated plating. Importinox offers a wide and broad assortment of specialized fasteners and perforated plates in combination with value added services, including product customization capabilities, and digital & logistics solutions. For more information please visit www.importinox.com.
About Fabory
Fabory is a leading specialist supplier of fasteners and related products in the Benelux with a pan-European presence. Fabory provides a broad assortment of high quality and application-critical fasteners of 180,000 SKUs to over 65,000 customers throughout Europe. Its client base ranks from multinational to small and medium sized enterprises across various end markets, including machine building, electrical appliances, automotive and construction. Fabory combines a deep technical knowledge with integrated supply chain solutions, providing its customers reliability and safe fastener solutions. Fabory employs c. 1,000 team members. For more information please visit www.fabory.com/group.
---
RELATED CONTENT: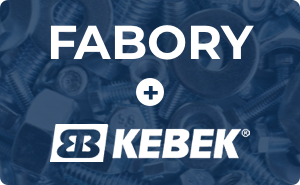 Masters in Fasteners: Fabory acquires KEBEK Group. Read more.
---
'IN THE NEWS' with Fastener News Desk the Week of January 24th, 2022
Acquisitions
,
Fasteners