It's IN THE NEWS with Fastener News Desk the Week of March 28th, 2022
WATCH NOW! FASTENERTV YOUTUBE CHANNEL: (5MIN-55SEC)
This week's episode of in the news is sponsored by Product Genius Technology. Enhance your website customer experience with the new view for industrial product search. Turn your sales team into product genius's when selling complex product categories online.
---
In Acquisition News…
This week gets off to a fast start for fastener acquisitions, just this morning…Bamal Fastener announced the acquisition of A&B Fasteners of Winder, GA and Industrial Depot of Gainesville, GA!
To learn more about Bamal visit: https://bamal.com Twitter: @Bamal_Fastener
---
In Fastener Industry News…
Würth Revcar Fasteners, a Würth Industry North America company, announced that it has fully leased a distribution warehouse building, consisting of 387,558 square feet, that had been occupied by the Home Shopping Network for the past 30 years. The building will be the single largest Würth facility in North America and serve as the new headquarters and primary distribution center for Würth Revcar – Industrial Division. The renovated space is expected to open in the third quarter of 2022. Dan Hill, chief executive officer said "We are thrilled to relocate Würth Revcar to a new, larger headquarters in Roanoke," "This move represents another significant milestone for our fast-growing organization. The new facility supports our customer-centric distribution strategy in North America while accommodating our growing team. 
---
Tune into the Fastener Industry's favorite podcast Fully Threaded Radio Episode 174 "Hyper Threaded" is LIVE! There's no hyperbole suggesting the fastener industry is moving at a hyperbolic rate, as world events impact supply and pricing at a dizzying pace. Here about the latest Fastener Distributor Index and doing business in a climate of uncertainty. WINA senior director Ken Misch explains how Würth Industry North America meets these challenges with their NEW state-of-the-art distribution center technology. Check out this month's episode with hosts Eric Dudas and Brian Musker in the industry's favorite podcast. Listen now at: http://fullythreaded.com Twitter: @FullyThreaded
---
Congratulations to Gail Friedberg Rottenstrich Co-Founder & CEO Of ZAGO Fasteners, she was chosen as one of the Top 40: Women in Business by ROI New Jersey https://www.roi-nj.com/2022/03/19/roi…
---
The stories featured in this week's episode of IN THE NEWS can be found at Fastener News Desk or in our Twitter feed @FastenerNews and on LinkedIn in the Fastener News Group! In Fastener Industry Events this week are:
---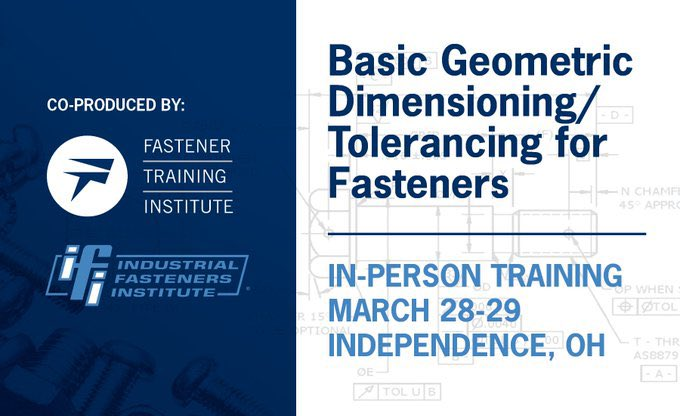 Happening today and tomorrow is a NEW class from the Fastener Training Institute and the Industrial Fastener Institute: Basic Geometric Dimensioning & Tolerancing for Fasteners. Learn about datums, bonus tolerance, and the 14 different controlled geometric characteristics with real-world examples. For more info go to FastenerTraining.com
---
Southwestern Fastener Association is having their Golf Outing tomorrow Tuesday, March 29th at the Texas Rangers Golf Club Arlington, TX. Tee-off at
12:30
!
---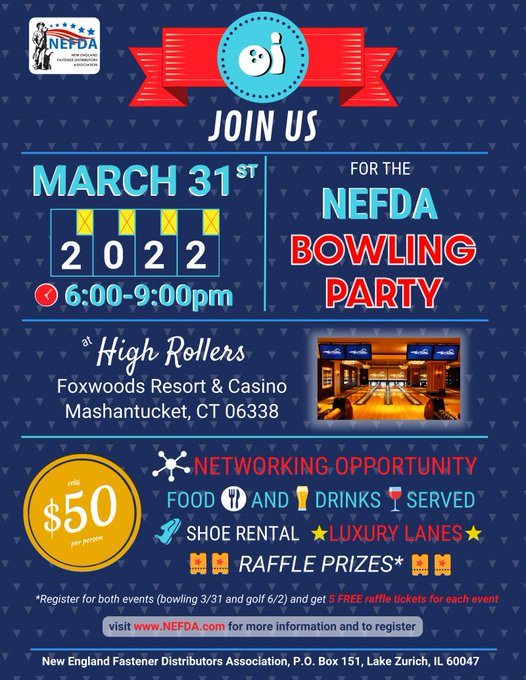 New England Fastener
Distributors
Association is having their annual Bowling Party! March 31st from 6-9:00PM
---
ATTN: Women in the Fastener Industry! Only one week left to Apply for The Margaret Davis scholarship to Fastener Fair USA in May which includes travel, accommodations & entrance! Applications are open until April 4th! To Apply Now go to: :
http://FastenerWomen.com
2022 marks the 40th anniversary of the IFE Fastener Hall of Fame, which recognizes professionals who have made significant and enduring contributions to the industrial fastener industry on a national or global scale. As part of the annual International Fastener Expo, the Hall of Fame inductees are selected from names submitted by people like you. Now is the time to nominate someone you think has made a difference in the fastener industry, through leadership, innovation, or education. Nominate online at FastenerShows.com. Deadline to submit nominations is July 30th.
---
If you would like to share your company's events or news, or sponsor an upcoming episode of IN THE NEWS, contact me lisa@fastenernewsdesk.com.
Thanks for tuning in to this week's episode of IN THE NEWS with Fastener News Desk. Until next week, be well, stay safe and Keep it Fastenating.
---
Fastener TV