Here's what's happening in and around the fastener industry the Week of November 14th, 2022
Listen now: (6:51)
---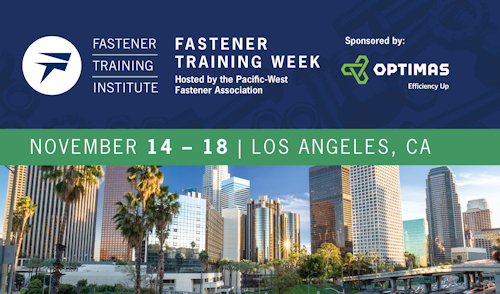 Fastener Training Week LA begins today, Monday, Nov. 14-18, 2022. Fastener Training Week offers 5 intensive days of education and virtual plant tours as part of the acclaimed FTI Certified Fastener SpecialistTM (CFS) advanced technical training program. Fastener Training Week is sponsored by Optimas. Go to FastenerTraining.org to find out about the next Fastener Training Opportunities.
---
The October seasonally adjusted Fastener Distributor Index (FDI) declined further vs. the previous month, coming in at 44.3. This represents another contractionary reading, indicating market conditions continued to deteriorate. This was consistent with the sub-50 reading in last month's Forward-Looking Indicator (FLI). Looking ahead, the FLI once again registered a sub-50 index value, reading 42.4, suggesting further declines in the FDI could be likely. Overall, similar to the overall macro backdrop, and the industrial economy specifically, fastener market demand conditions continue to soften. Read full report: 
---

Fastenal celebrated another major milestone in October, the company reached $1 billion in eCommerce revenue within a calendar year. Fastenal's eCommerce platform officially launched more than 20 years ago, but historically it represented a relatively small share of the overall business. This began to change about five years ago with a strategy positioning eCommerce as a critical component of the company's high-tech, high-touch service model. Five years ago, in 2017, the company's eCommerce sales were $245 million, representing 5.5% of total company sales. After hitting the $1 billion milestone in October, Fastenal's eCommerce sales represent 17.4% of total company year-to-date sales (and 19.9% of its October 2022 sales). Read more: 
---
Lots of activity In Fastener Acquisition News…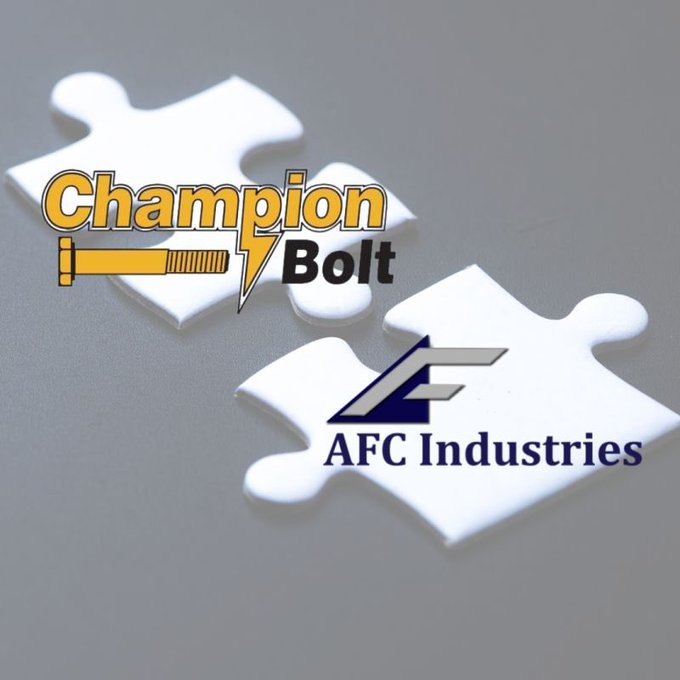 AFC Industries has acquired Erie, PA based Champion Bolt (www.championboltinc.com) Terms of the deal were not disclosed. Champion, established in 1986, specializes in custom-solutions and services for OEM assembly environments. In April 2021 AFC Industries was acquired by Bertram Capital, based in Foster City CA.
---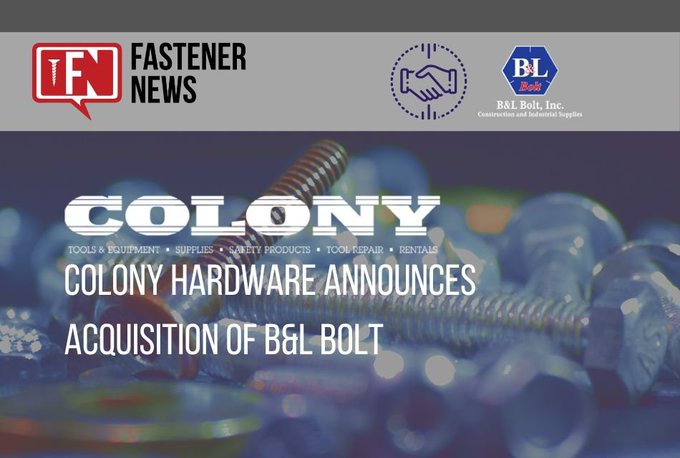 Colony Hardware, Inc. ("Colony" or the "Company"), a leading direct-to-jobsite distributor of construction materials and jobsite supplies has announced the acquisition of B&L Bolt, Inc. and Slip-On Lock Nut, LLC ("B&L"), a Michigan-based value-added distributor of strut, fasteners, power tools, and other supplies to construction and industrial customers. The acquisition represents Colony's 11th acquisition since partnering with Audax Private Equity in November of 2018. Read more:
---

The Bostwick-Braun Company, today announced the acquisition of Mill Supplies, Inc. by the company's Industrial Business Division. MSI is a contractor and industrial supply company that has supported the OEM, construction, and metalworking industries in Indiana and Ohio for over 60 years. The Bostwick-Braun Company is a wholesale distributor of hardware and industrial supplies and one of the Midwest's largest and oldest. Their Industrial Business Division's roster includes Columbus Fasteners, Complete Fastening Systems, EBN Industrial Supply, Hi-Tech Tools, JMC Sales & Engineering, Mill Supplies, Inc., and Wayne Fasteners. Read more:
---
In Fastener Events and Happenings News…
November 17th is After Hours with the Pacific West Fastener Association. 5-8PM at BJ's Restaurant and Brewhouse Stop by and meet other people in the fastener industry and expand your professional network. For more info go to Pac-West.org
---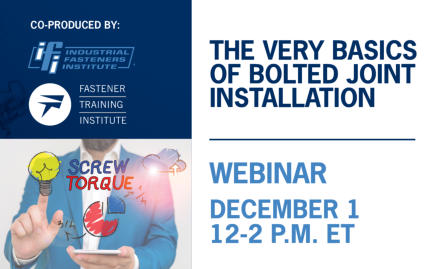 The Fastener Training Institute and Industrial Fasteners Institute will present a live webinar looking at how we install fasteners and why. The Very Basics of Bolted Joint Installation will take place December 1st at 12:00-2PM ET. Participants will gain an understanding of the fastener engineering of the bolted joint and how users approach achieving the tension they desire. This is a "basics" webinar and good for anyone new to the fastener industry, in a position where understanding how the customer is applying the product is essential, or just wants to learn more about the industry. For more information go to FastenerTraining.org
---
The stories featured in this week's episode of IN THE NEWS can be found at Fastener News Desk or in our Twitter feed @FastenerNews and on LinkedIn in the Fastener News Group!
---
Industrial products are comprehensive and purchasing them online can lead to poor customer experiences when utilizing filtered search. The Product Genius's grid technology allows your clients to search, sort and purchase 100's of products from a one-page buying experience.
Experience and Demo FAST Fastener buying at 1-800-Fasteners.com.
PGT's services also include, data cleaning and preparation, consulting, and strategizing. Contact ProductGeniusTechnology.com or call 1-800-fasteners to find out how to get started today.
---
If you would like to share your company's events, news or sponsor an upcoming episode of IN THE NEWS or would like to add to the Fastener Museum me: lisa@fastenernewsdesk.com.
Thanks for tuning in to this week's episode of IN THE NEWS with Fastener News Desk.

Until next week, be well, be safe and Keep it Fastenating.
---
RELATED CONTENT:
Fastener News
,
Fastener TV