Here's what's happening in fastener industry news and events, the week of May 29, 2023.
Watch now on FastenerTV: (7:36)
---
Sad news…from Mid-States Bolt & Screw. The Somers family has suffered a monumental loss, On Tuesday 5/23/23, Marc Somers passed away after a long, arduous and valiant fight. Marc along with his two brothers Scott and Matt have continued the legacy of their father Herb Somers. On May 24th the company celebrated 50 years in business. Please join us in sending the Somers family our thoughts and prayers at this difficult time.
---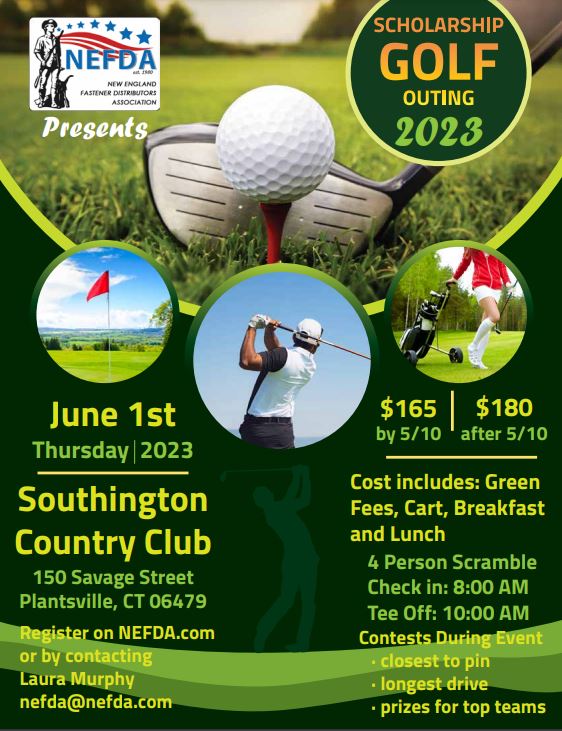 The New England Fastener Distributors Association will host the 2023 NEFDA Scholarship Golf Outing on June 1st at the Southington Country Club in Plantsville, CT For more info go to nefda.com
---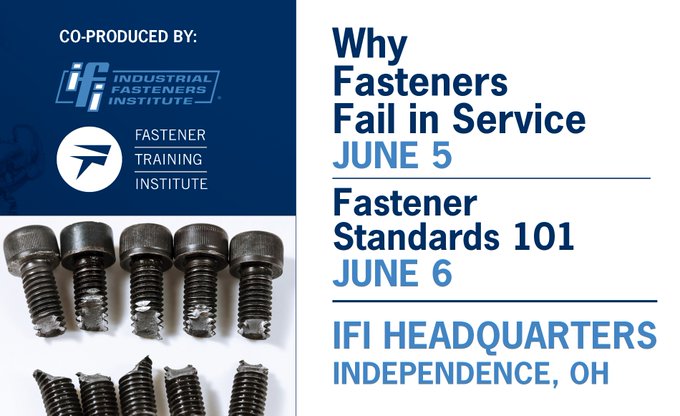 Two upcoming in-person training opportunities Co-Produced by Industrial Fasteners Institute and the Fastener Training Institute will be held at the IFI Headquarters in Independence, OH with Instructor: Laurence Claus, IFI Director of Education and Training
Monday, June 5th is Why Fasteners Fail in Service
This one‐day seminar will educate and familiarize participants with the basic concepts of why fasteners fail in service, first looking at basic failure mechanics. With this foundation, participants will learn about failures in service resulting from overload and progressive failure modes like fatigue and corrosion.
Tuesday, June 6th is Fastener Standards 101 – Industrial Version
This one‐day seminar will educate and familiarize participants on Fastener Standards by exploring how standards are developed and amended. Attendees will compare various standards to understand differences and similarities and will use practical application examples to become more comfortable with identification and use of fastener standards. For more info and registration go to FastenerTraining.org
---

Join the Pac-West Fastener Association for their After Hours meetup at Bowlero South in Seattle, WA on June 8th from 5-8pm. Stop by and meet other people in the fastener industry and expand your professional network.  Pac-West will host one beverage per person along with complimentary appetizers! Registration is open at Pac-West.org 
---

The 2023 National Fastener Distributors Association Annual Meeting will take place in Downtown Chicago, IL at the Radisson Blu Aqua Hotel June 13-14. Taking place will be the Board of Directors Meeting, Welcome Reception, NFDA Fastener Professional of the Year Award Presentation, Speakers, a State of the Industry Panel Program and more. For additional information go to NFDA-Fastener.org
---
The International Fastener Expo is accepting nominations for the 2023 Fastener Hall of Fame and Young Fastener Professional of the Year prestigious Awards.
The Fastener Hall of Fame recognizes professionals who have made significant and enduring contributions to the industrial fastener industry on a national or global scale. Individuals selected for induction will join other honored industry members, including but not limited to inventors, business leaders, and educators.  The Young Fastener Professional of the Year award recognizes and honors a young professional who has made significant contributions to the fastener industry.
The recipients will be recognized at a special event during the International Fastener Expo and receive a commemorative plaque. The deadline for nominations has been extended to June 30th! Nominate today! 
The 2023 International Fastener Expo is scheduled for October 9-11th in Las Vegas at Mandalay Bay. Official hotel accommodations are now open!
To nominate or book your stay go to FastenerShows.com
---
Next generation advanced planning and scheduling is here!
Optessa's AI-driven optimization ushers in a new way for manufacturers to generate optimal plans and schedules in a fraction of the time. Respond to disruptions, meet delivery dates, reduce excessive parts inventory, eliminate costly idle time, and stabilize your supply chain. Request a live demo of Optessa's NextGen APS platform today!
Visit https://www.optessa.com/ for more information! 
---
The North Coast Fastener Association will host Cork-SCREW….Cheers to Fasteners event on June 22nd from 5:00-9:00PM. Join the NCFA for a casual evening out at the Sharon James Cellars located in Newbury, OH. Join the NCFA for a fun night out with industry friends including a Cornhole tournament.  Space is limited for this event! REGISTRATION DEADLINE: JUNE 12. For registration info go to NCFAOnline.com 
---
To learn more about our NEWS SERIES: FASTENATING a limited time offer 'Celebrating Your Success" Go to the Fastener News Group at LinkedIn. Your entry could be chosen for a FREE feature at Fastener News Desk which includes premium placement, link to your website, promo in the Fastener News communities, feature in an upcoming newsletter and 'IN THE NEWS Podcast'
Entries may be submitted to lisa@fastenernewsdesk.com
---
The stories featured in this week's episode of IN THE NEWS can be found on Fastener News Desk or in our Twitter feed @FastenerNews and LinkedIn in the Fastener News Group!
---
BTM Manufacturing, Domestic Fastener Manufacturer is partnering with Issco, Inc, Twin Lakes Insurance, and Wachter Inc for an upcoming event to help support the good work of the Sleep in Heavenly Peace Organization. Help Jake and his team build 100-beds on June 10th. There is a couple of ways to get involved. Volunteer To Help Build or Donate funds. The cost of this project is $25,000.  Donated funds will provide the necessary lumber and hardware to build and assemble the beds as well as provide the mattresses, pillows, and bedding to make them complete. Every child deserves a warm, soft, and safe place to sleep at night and with your help we can see that NO KID SLEEPS ON THE FLOOR IN ANY TOWN! For more info on how you can help go to @BTMmfg on twitter. Together we make sure that every child has a bed to sleep in.
Donate: https://interland3.donorperfect.net/weblink/weblink.aspx?name=E345976&id=546
Help Build Beds: https://signupgenius.com
---
RELATED CONTENT:
IN THE NEWS with Fastener News Desk the Week of May 22, 2023
IN THE NEWS with Fastener News Desk the Week of May 15, 2023
Fastener Hall of Fame
,
Fastener News
,
Fastener News Desk
,
Fastener News Podcast
,
Fastener TV